Our New House

(scroll down for pics)
My family has invested a lot of "sweat equity" in this place and it shows.
Before he sold it to us, my son-in-law put on a new roof, installed new A/C-Heating and moved the unit to the end of the house. There was a lot of new carpentry done including new front and back doors and lots of stuff for the inside like new fans in all rooms, new door knobs, new switch plates, etc.
The family worked for days to help us get the place in order.
On 12-02-2008 we inspected the house and began cleaning up the exterior.
On 12-28-2008 we began work on the inside, mostly ripping out old carpet and hauling off trash and discards.
On 01-04-2009 we took photos of our 1st week's progress of initial paint and floor scraping.
On 01-11
-2009 we took photos of our 2nd week's progress, final paint and installing some new fixtures.
On 01-18
-2009 we took photos of our 3rd week's progress, final basic repair, new flooring, and trim.

On 01-25
-2009 we took photos of our 4th week's progress, livingroom furniture and bed delivered, some decorating done.

On 02-01
-2009 we took photos of our 5th week's progress. This will probably be my last update to this web page. We got our bedroom furniture and a lot of other stuff out of storage. Linda hung several pictures and we're making great progress on the house.
Click the photos below for details of each room:
| | | |
| --- | --- | --- |
| Living Room | Front Door & Fireplace | Dining Room |
| Guest Bathroom | Back Bedroom - Office and Library | Front Bedroom and Hall |
| Kitchen | Laundry and Back Hallway | Master Bedroom |
| Lavatory for Master Bathroom | Master Bathroom | House and Yard - 2 acres |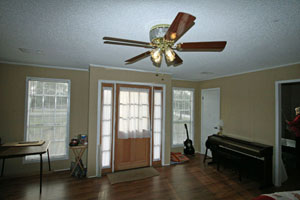 What the house looks like today 2/1/09