There are 33 photos on this page, about 3 times the usual number for one of my photo essays. For that reason, I'll try to be as brief as possible.

In a nutshell, Hurricane Irma passed to the west of us on Monday, September 11th. We were hit with her heaviest winds. We had prepared but no one can prepare for all the unforseeable damage.

Here's a list of some of the damages:

Our 3 largest trees in the backyard we toppled.

We lost about a 5th of our roof shingles.

A lean-to attached to my tool shed was crushed.

Parts of our back yard fence were crushed.

Garden machinery was damaged.

Our sheds metal siding and roofing were damaged.

One of the shed's end-walls was pushed in.


Our well take was pushed over.

We had a power outage.
You can view many other pages on this website to see what the "BEFORE" photos looked like. Here are the "AFTER" photos.

There was some water damage from the water pouring in.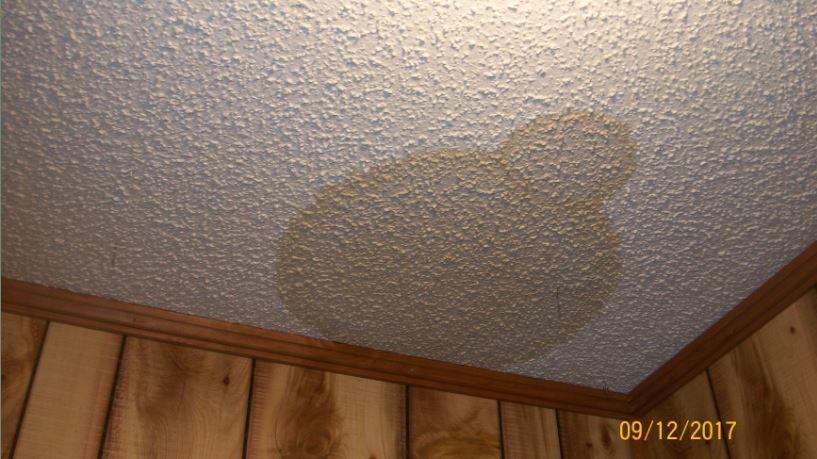 The water damage was caused by so many roof shingles being blown off.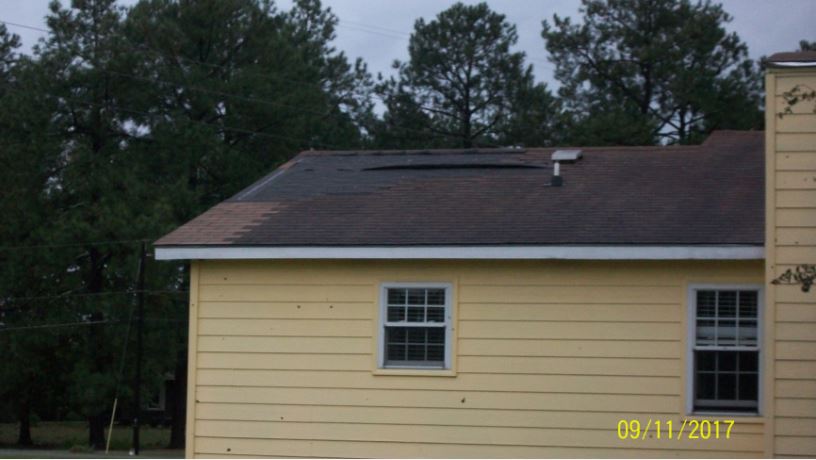 Here's an end view of one of the large Chinaberry trees that was blown down. It was so tall that the treetop limbs blocked the door to my toolshed.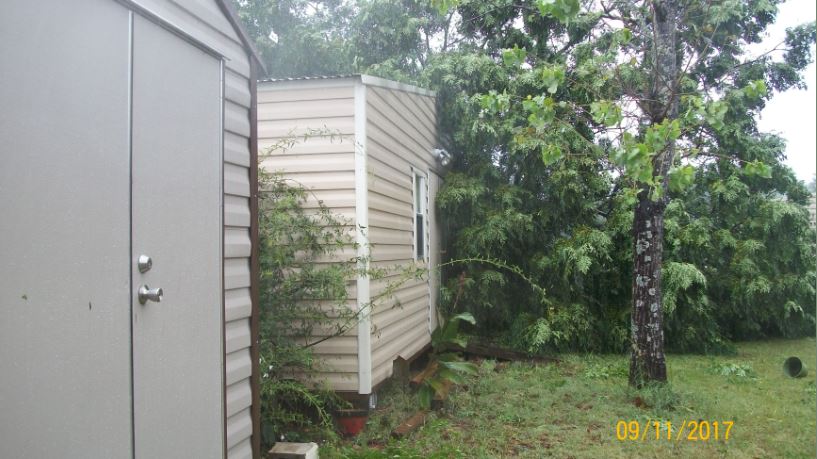 Here's a front view of the same tree. It was about 79 inches around at the base and nearly 70 feet tall.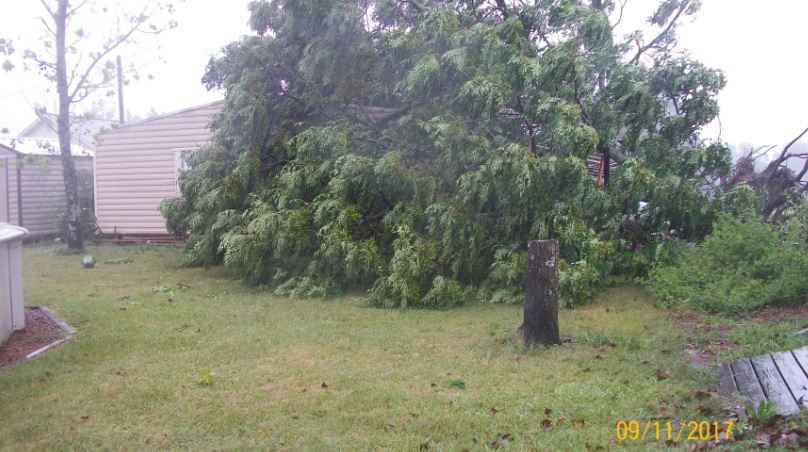 Here's a closeup of the same tree showing how the weight of it crushed my lean-to.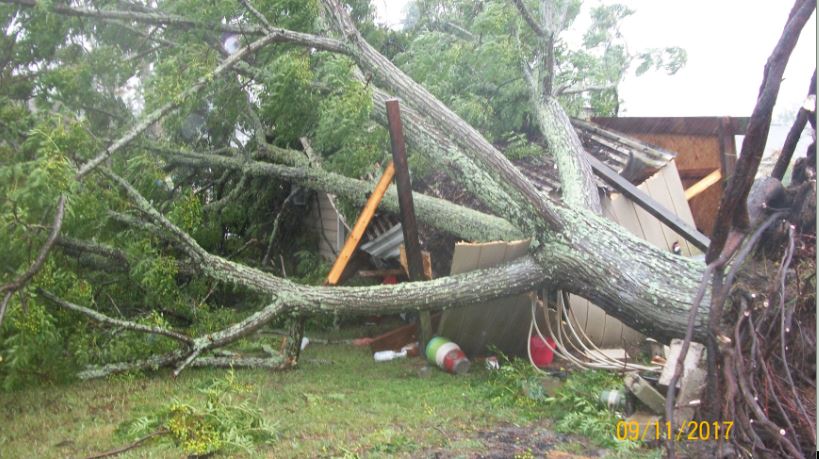 And here's an end view of the tree and it's large stump that was nearly as tall as I am when it was uprooted.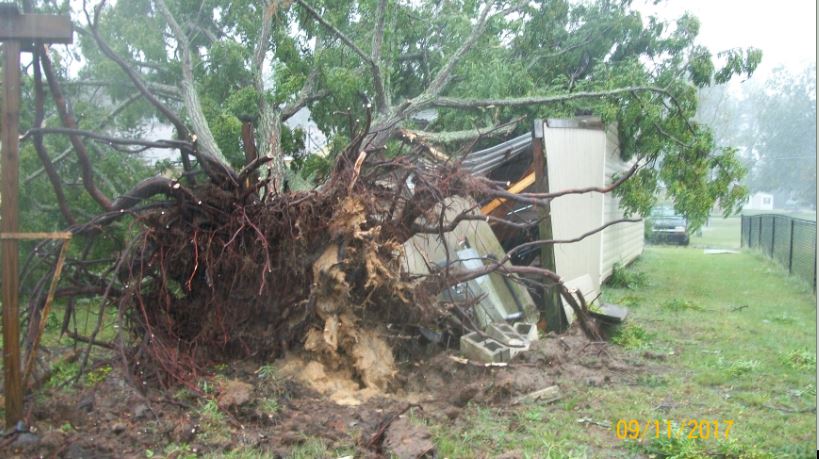 The two other trees that were blown over and uprooted were this Eastern Cottonwood and another Chinaberry. The Chinaberry was only slightly smaller than the first one I showed you at 74 inches in girth at the base and about 65 feet tall.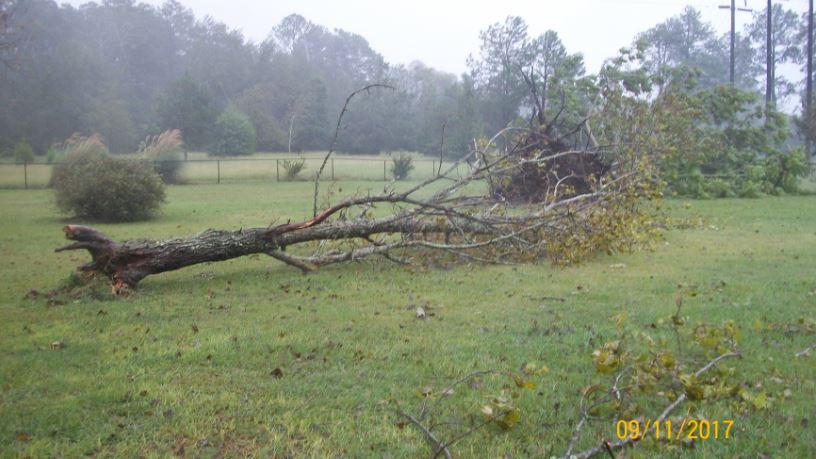 Since I'm one of the leaders of our church, the first thing I did was call my leaders, our bishop and our men's leader for older men in the church which we call the "high priests group." I reported my situation and checked on their condition because I'm responsible for them as well. They both said they were ok. I also called about one of the widows in our church then reported her situation to them.

My son John and his son-in-law, Floyd, were first to respond when I told my family I needed help.
Here's a photo of Marshall, Porter, and Caleb (blue, black, and red shirts) who are the son-in-law and sons of my son-in-law, Glen. Next are my sons Adam and John, and John's son-in-law, Floyd.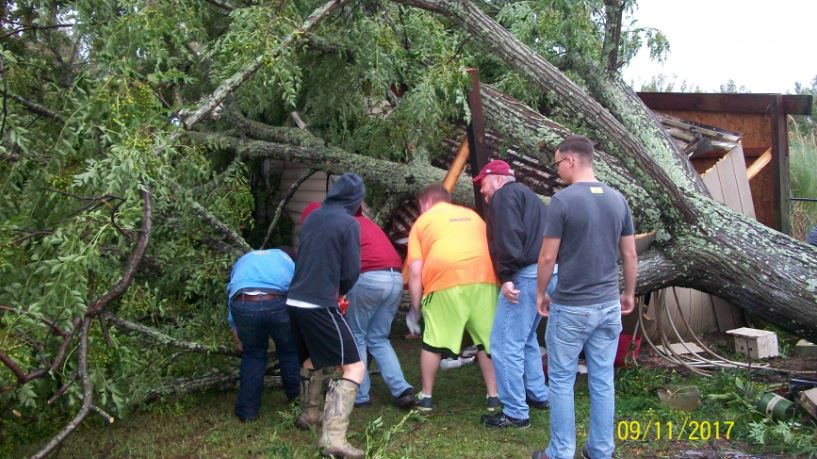 The water tank was pushed over. Power was off so I did not know the condition of our well plumbing.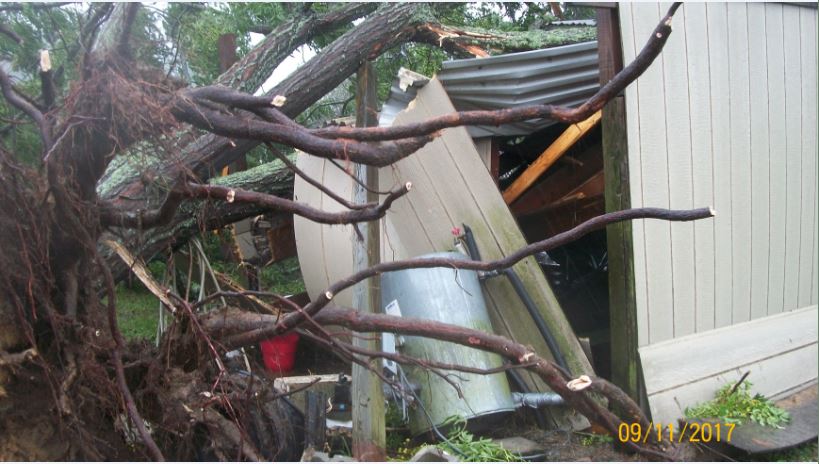 I called my good friend, fellow church member, and contractor, Mike Thigpen (in the straw hat). He and my son-in-law Glen are both knowledgeable in construction. Glen has bought and restored over a dozen homes. Mike retired with several decades of experience in the construction trades.

They were able to make temporary repairs. Mike brought one of his construction trailers and a gas generator with which he tested the repairs to make sure there were no leaks. By the end of the day we had both power and water back on. Later after we settled with the insurance company, I hired Mike to make permanent repairs.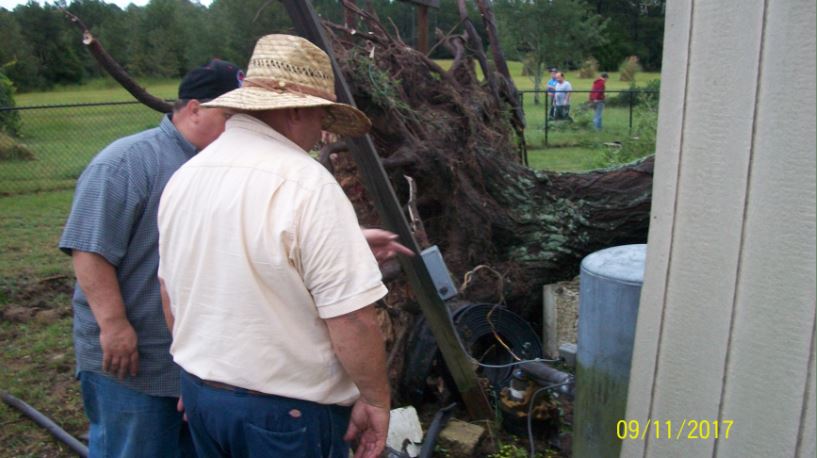 Glen's son (my grandson) Porter was quite handy with a chainsaw.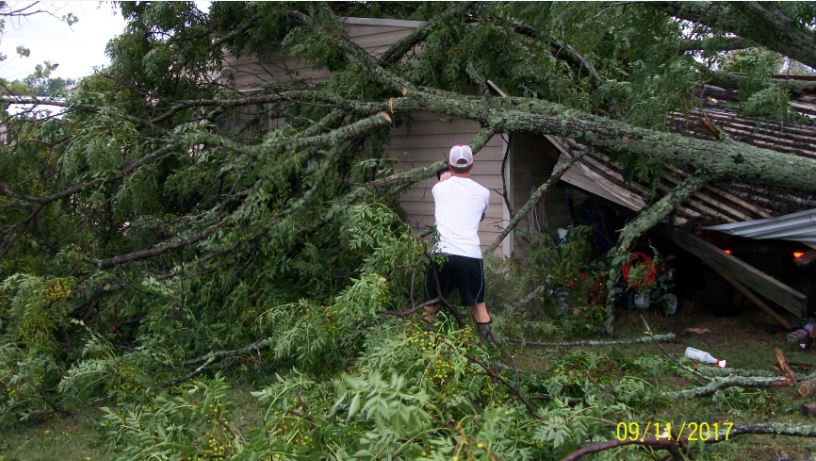 Here's Porter in the treetop with my son John looking on.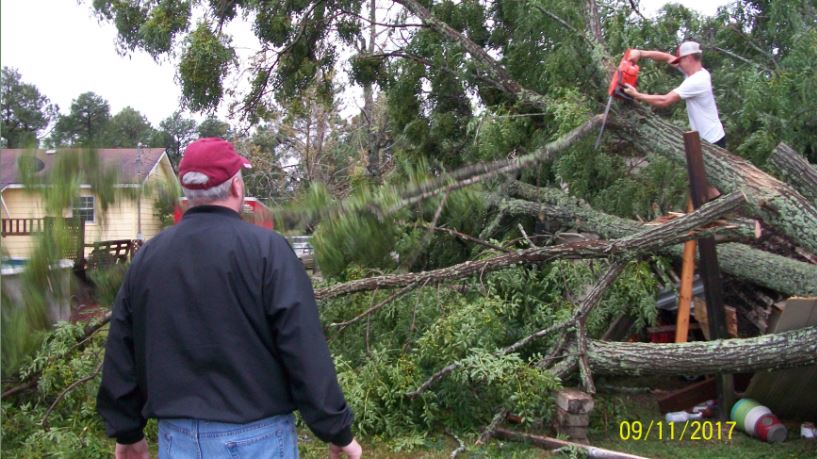 Mike Thigpen's family joined him. Altogether, they had 3 chainsaws going at the same time. There were great many limbs to be moved out of the way.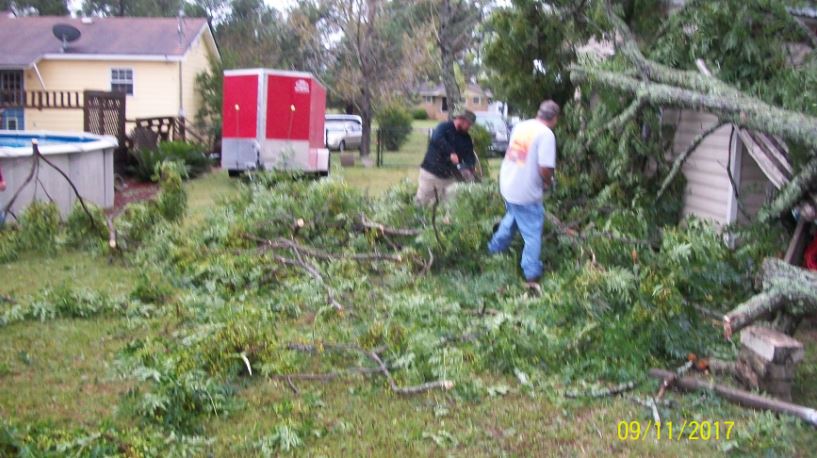 So many family and friends came to help that the limbs never piled up. Here in the foreground are my sons John and Adam (orange shirt) and grandsons in the distance.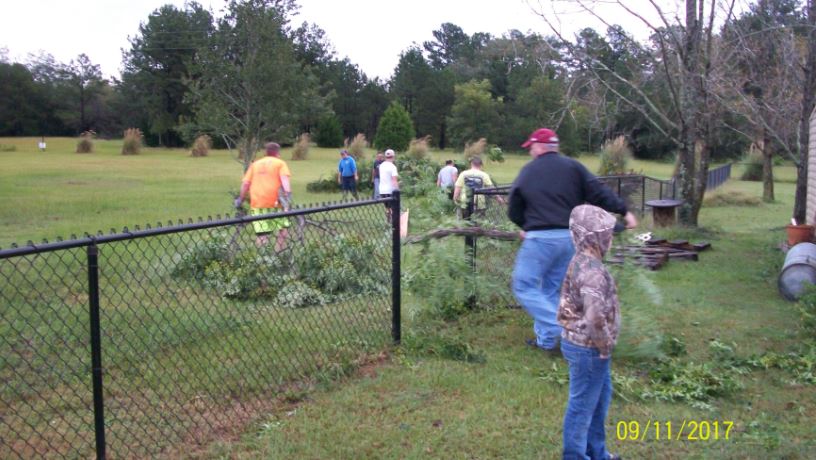 Left to right are Caleb, one of Mike Thigpen's sons (I think it's Chris), John's son-in-law, Floyd (formerly of the U.S. Marine Corp), Glen's son-in-law, Marshall (U.S. Army), another friend of Mike Thigpen's family, Danny, and my son Adam.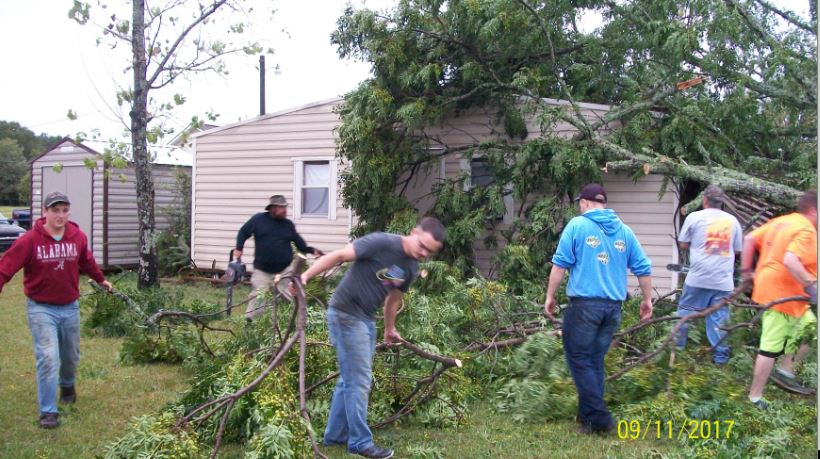 The guys were joined by another of my sons-in-law, Ed who is on the right in front of Glen.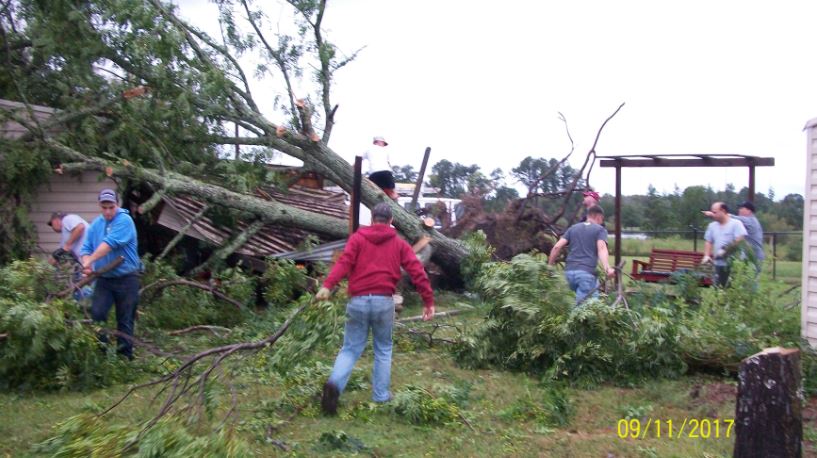 Grandson Caleb is grimicing at the heavy load. Or maybe he's just being silly. Hard to tell.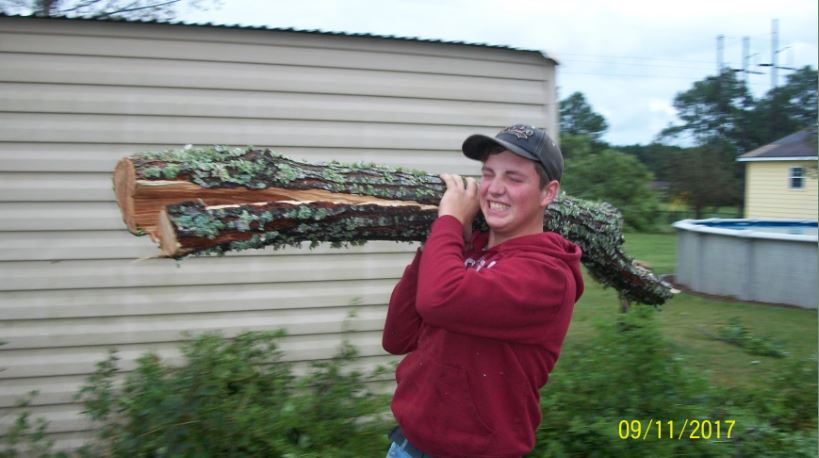 Ed and Adam. Some of the limbs were quite heavy.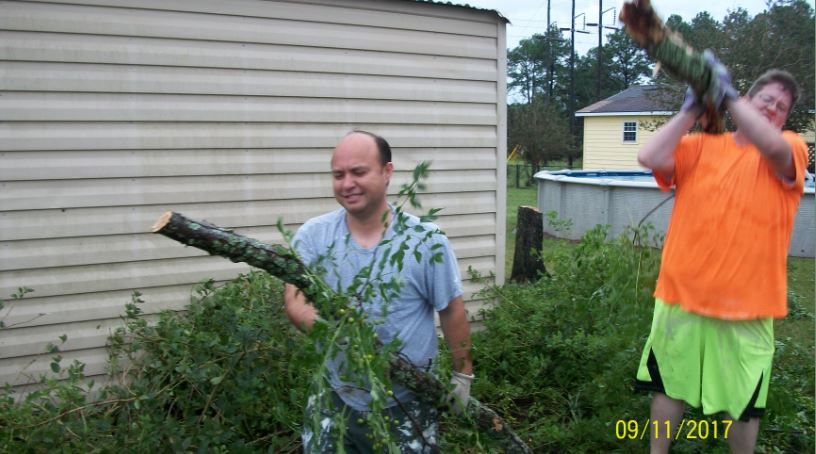 Wish I could keep up with the younger guys but I'm 70-years-old, I've had cancer and a heart condition (pacemaker), and I suffer from energy loss. I did what I could.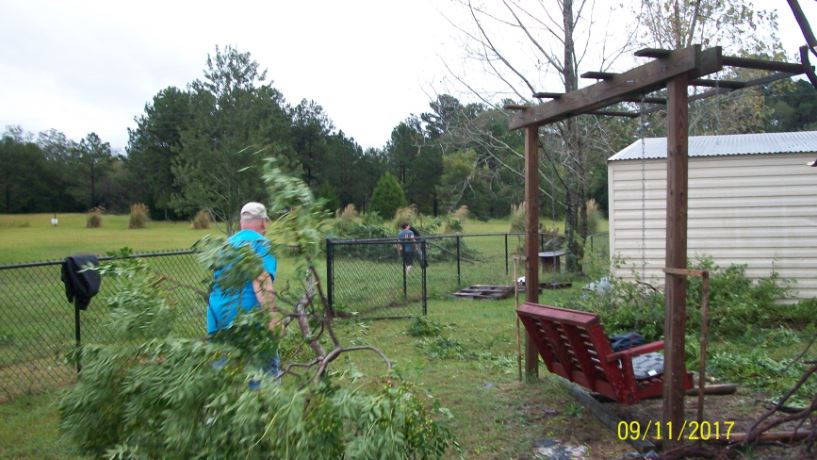 Here's Mike Thigpen's grandson, Bryant in the yellow shirt. He's one of our 12-year-olds at church. He came with his granddad and worked as hard as anyone. Here, he's helping Adam (orange shirt), John (red cap), me and Marshall.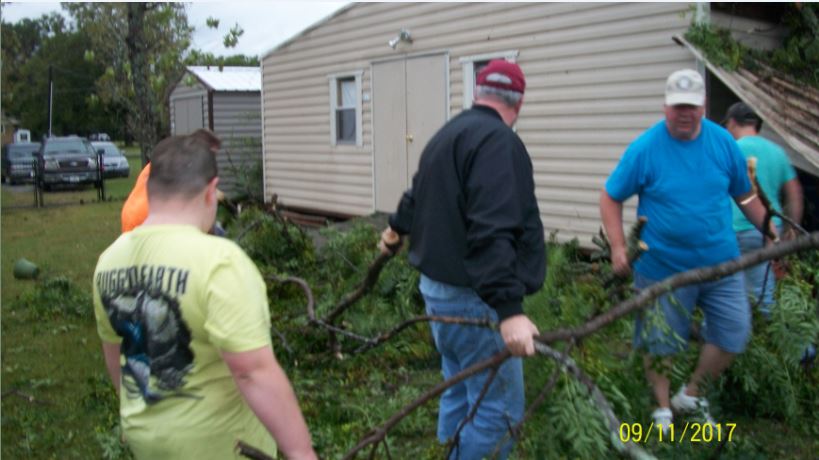 Later two more of our grandsons showed up: Andy and Kaleb. Here they are headed for the wood pile as they greet me on my return trip.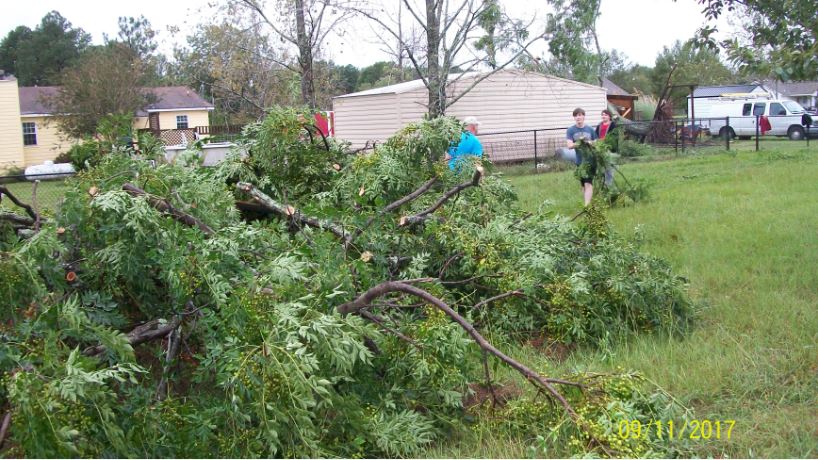 Glen, Andy, and two of Mike Thigpen's folks, Chris and Danny.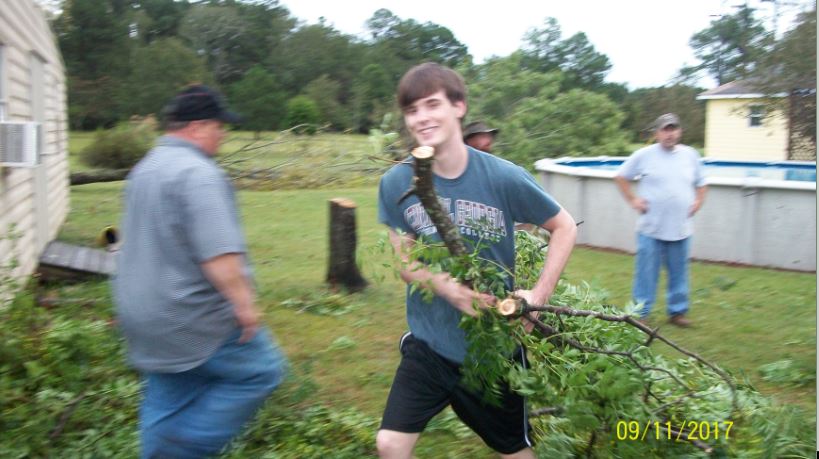 Kaleb is Linda's youngest grandson. Here he is in the foreground with Danny, Andy, Ed, and Floyd.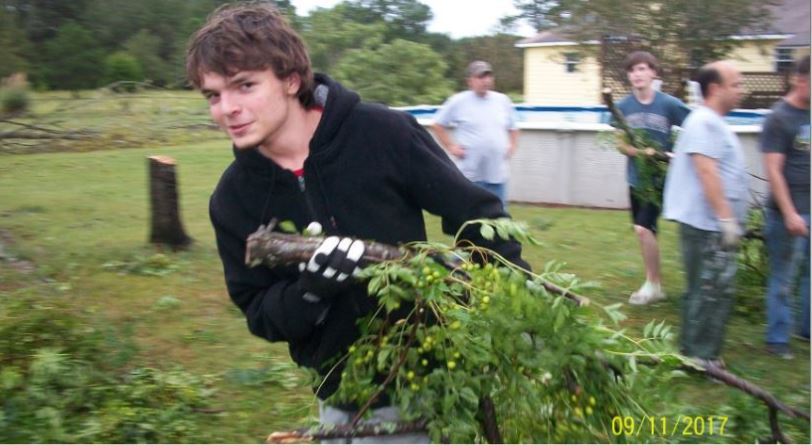 Caleb, Ed, and John. To avoid confusion, Linda and I refer to two of our grandsons as "C" Caleb and "K" Kaleb.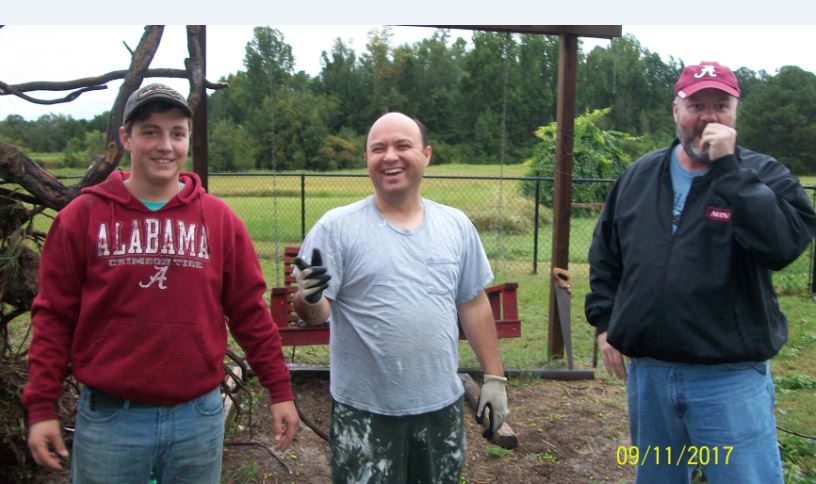 Here's a good photo of Floyd. These two military men, Floyd and Marshall, were probably the hardest working men of all.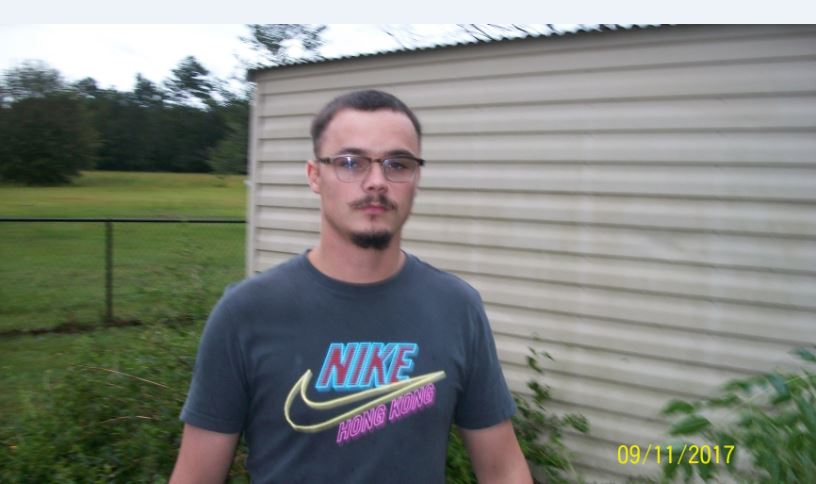 John, Andy, Floyd, Adam, Marshall, Ed, and Danny.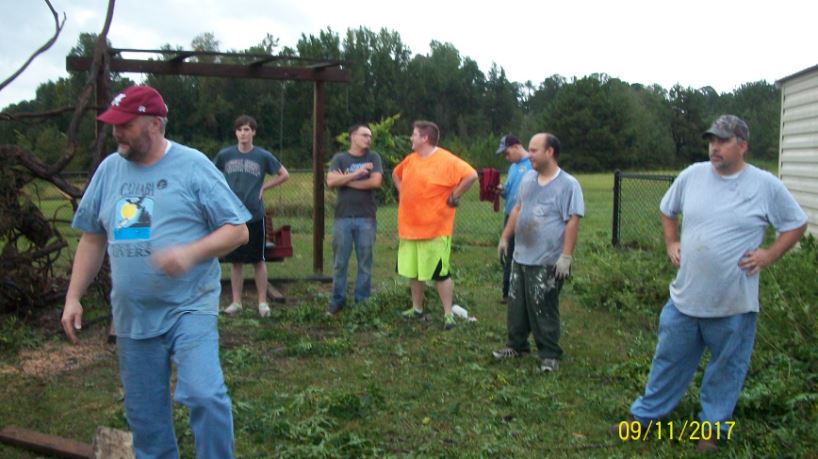 Chris and Kaleb in the foreground take a break and my wife Linda and daughter JoAnna look on. JoAnna came over to see the work her husband Glen, sons Porter and Caleb, and son-in-law Marshall were doing.

When my kids were young, several co-workers made fun of me for having such a large family. It's in just such situations as these that I wish I could have shown them why having a large family can be a real blessing.




Here's Porter and Mike Thigpen atop the tool shed. I was really worried for Mike. He's only a few years younger than I am and had no business atop that building. But if you knew him, you'd know there's no slowing this guy down. He's a work-a-holic.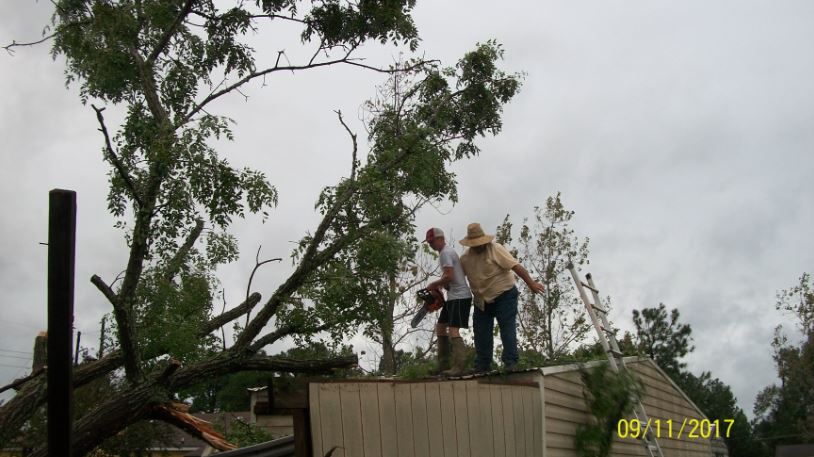 While Porter and Mike were making short work of the big Chinaberry on the toolshed, the rest of Mike's family were busy removing the Eastern Cottonwood that had fallen in the other part of my yard.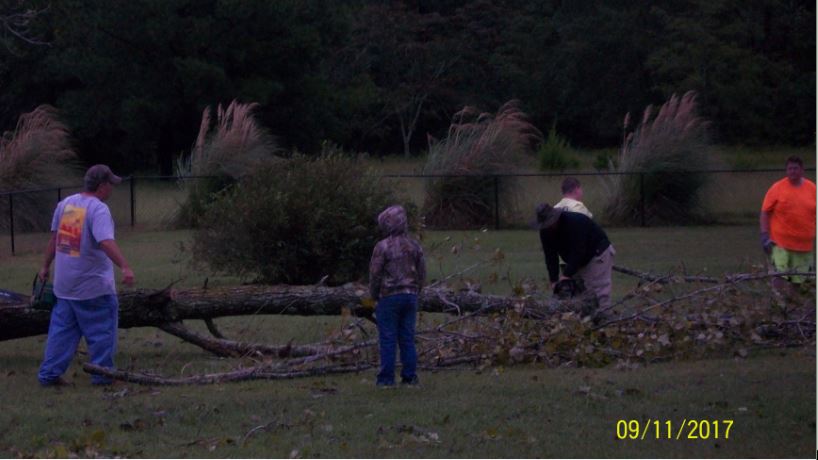 They cut the thing into manageable pieces and threw them over the fence where the other guys put them on the wood pile.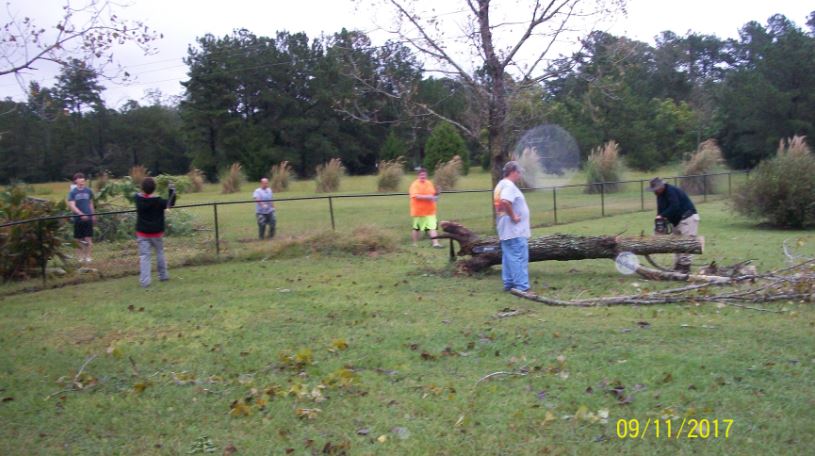 Before long, the guys had uncovered the lean-to enough that I could see underneath it.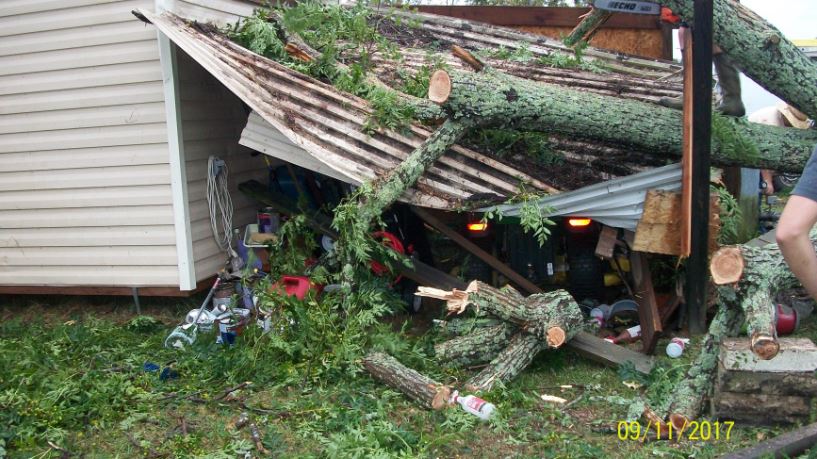 Here's a wider view of a similar shot as Porter removed the last long limb.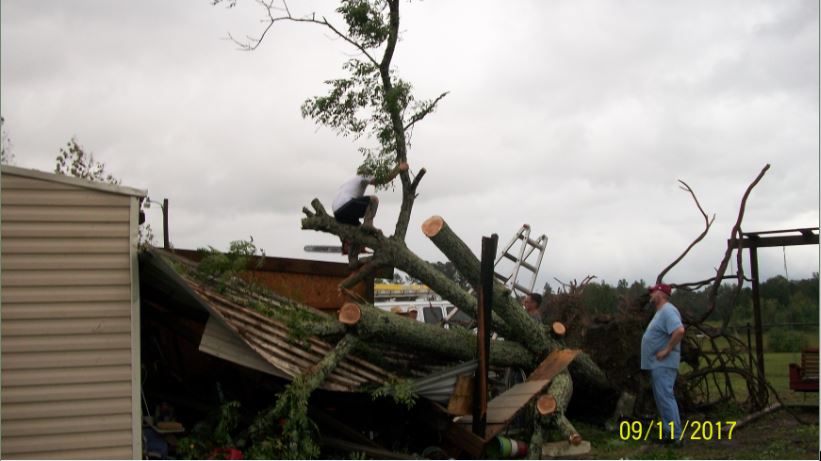 A closeup revealed that all my yard equipment, although tossed about was still in pretty good shape. I later discovered that God had greatly blessed us. Much of it was unharmed. Only parts of the machinery were damaged.

Though the John Deere mower and sweeper bore the heaviest load of the tree, the lean-to roof only damaged the hood and seat of the lawn tractor and the bag of the sweeper. Both are replaceable. There was minor damage to other stuff but it, too, was mostly repairable.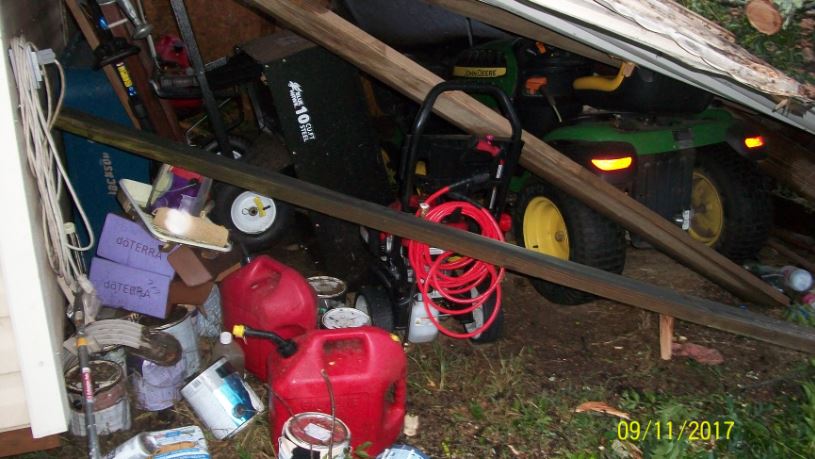 I have to put in a plug here for my insurance company, Allstate. I called them the day of the storm. In less than a week an insurance adjuster showed up, assessed the damage, and wrote me a check for most of it. I used this to begin repairs and got the remainder of the money within the next 6 weeks after we were able to fully assess all remaining damages and calculate the cost.

People can save money with other companies. I won't argue that. And my adjuster was no pushover. He was a tough, no-nonsense businessman. But he was quite fair and anxious to see that I got as much coverage as he could figure out how to give me. In the end, I had very little property that wasn't replaced with all-new or fully repaired replacements.

Most of all, though, Linda and I owe a great debt of gratitude and appreciation to our merciful God, our church, our family and friends who came to our aid when we needed them most. Thanks be to all.

Please visit my other pages to see what things looked like AFTER repairs were made.