Sep. 25, 2011
Our First Month in the Mission
Sep. 5 - Labor Day
For Labor Day, 2011, we were invited to a cookout with our dear friends the Kiltons for whom I wrote
the song mentioned in my previous web page
. We got to see the whole family plus we got to see my two daughters again.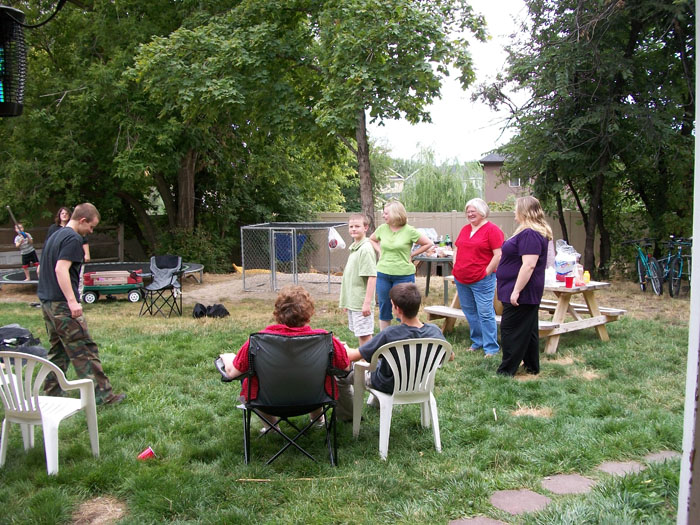 See that lovely smile? This is "Friendly Food!"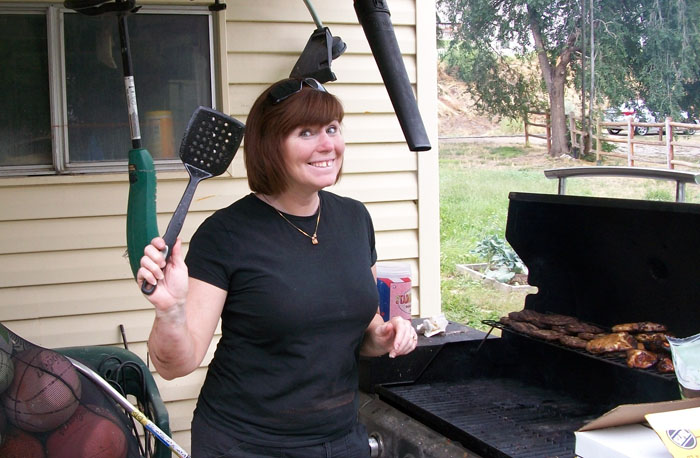 Some were smiling for a different reason. This is a birthday cake made in the shape of a hamburger.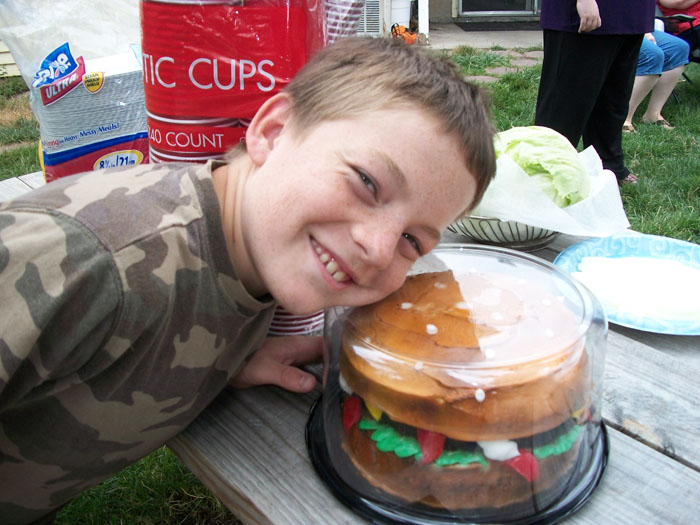 And some were smiling just because they're happy. We LOVE this family.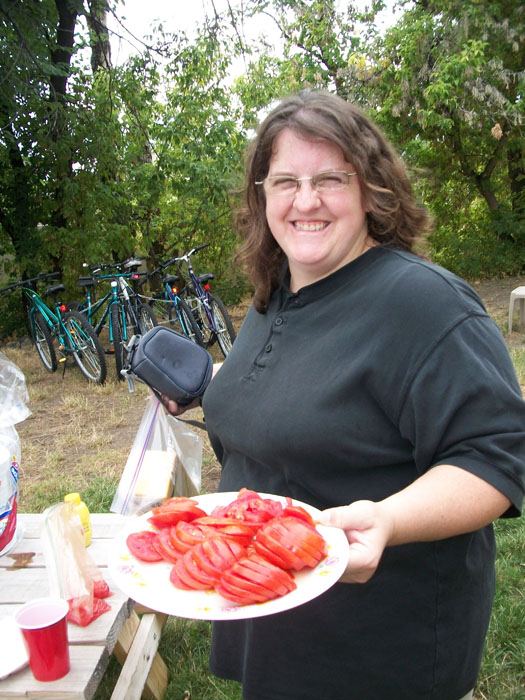 That's why I wrote the song for them.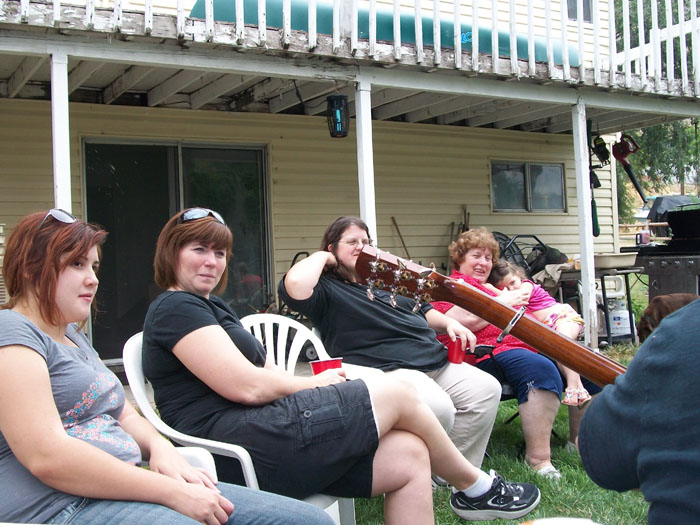 Our families went to church together when our children were growing up. We sang together back then too.
They enjoyed the song my daughters and I sang for them. Later, we gave them lyric sheets so they could all join in.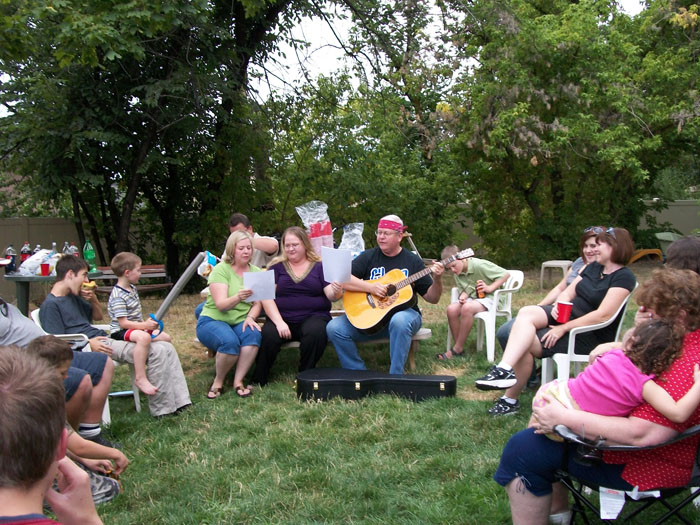 When we got home that night we saw a flock of California Quail at the entrance drive to our apartment complex.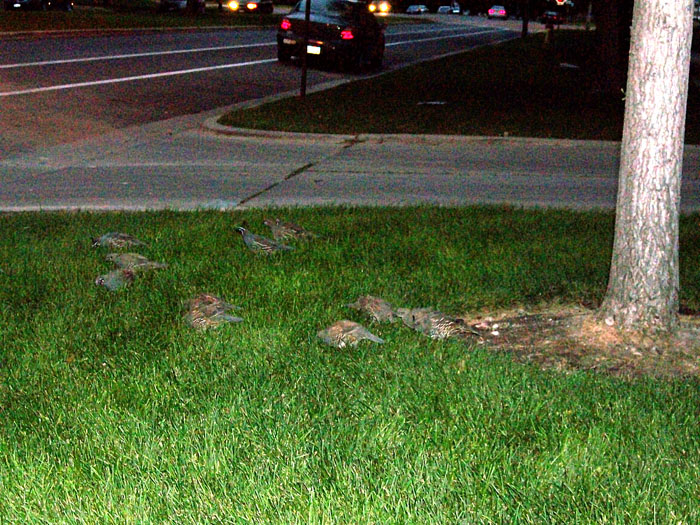 These little guys used to nest amongst the shrubs. They've raised several flocks there. But now all the shrubbery is gone. The apartment complex had to redo all the drains and irrigation system so the birds ran into the street.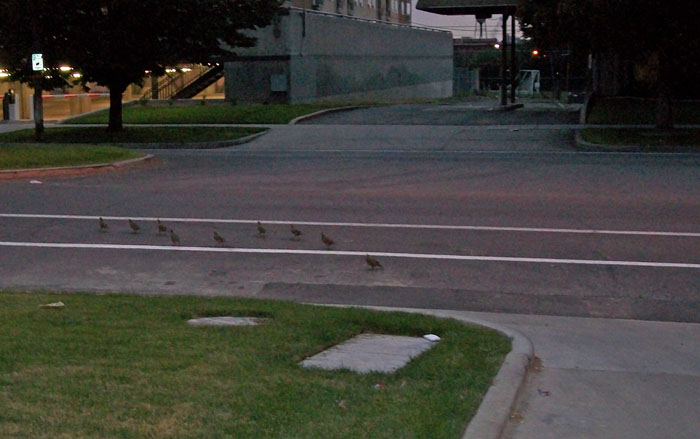 Sep. 6 - In the Training Zone
We only spent a few days in the Training Zone at the beginning of our mission. After that, with our September group split in half, half of us received our zone assignments early. Linda and I were assigned to the Data Quality Zone so we left this training environment on the 3rd floor for a 6th floor cubical.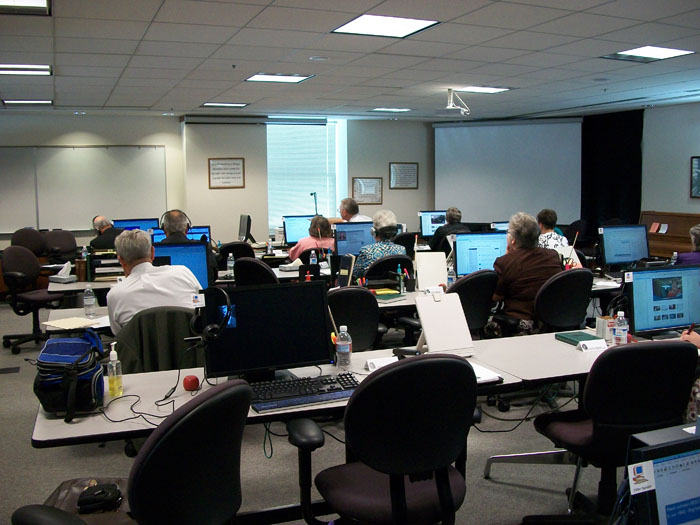 Sep. 7 - Lunch with friends
Because our group of September missionaries was so large that's why we were split in half. Here, we're having lunch with the Speidels who have become good friends. They're in our half of the group which was delayed in receiving training. These friends went to the Training Zone to work rather than to receive training. Elder Speidel helped write the training manual back in 2005-2006 on their last mission here. This time around they've asked him to edit the manual for training the trainers.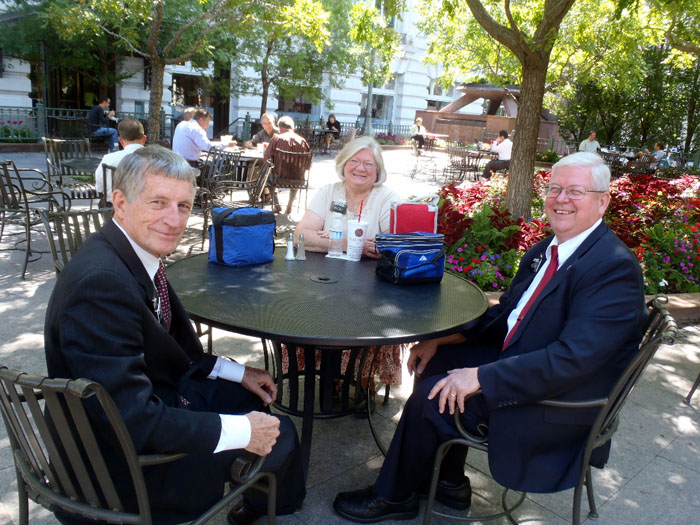 Sep. 10 - Another Cookout!
They invited us over for cookout that Saturday.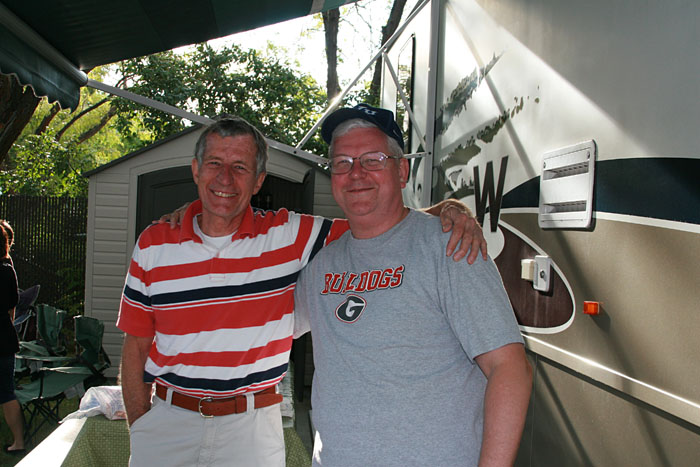 He introduced us to his grandson who just returned from his own mission to return to college.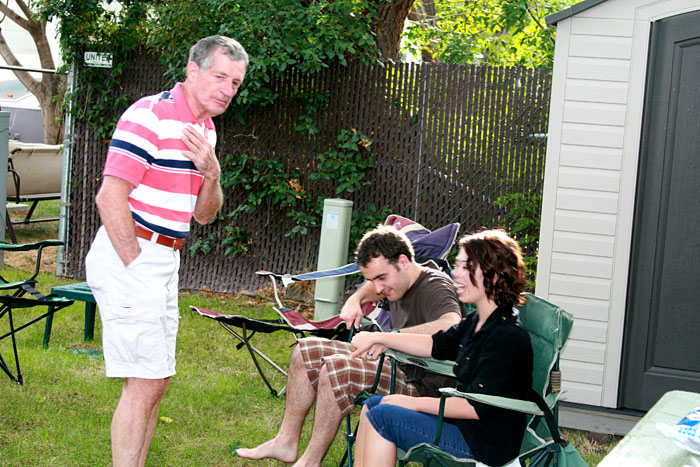 Here, I'm chatting with Elder Haymore, the Executive Secretary for our mission, another friend of the Speidels.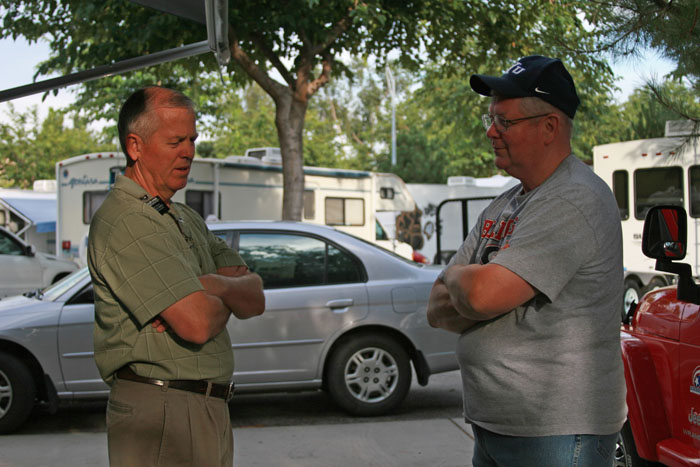 The Speidels are great hosts. Here, they are chatting with Sister Haymore, the mission's housing director.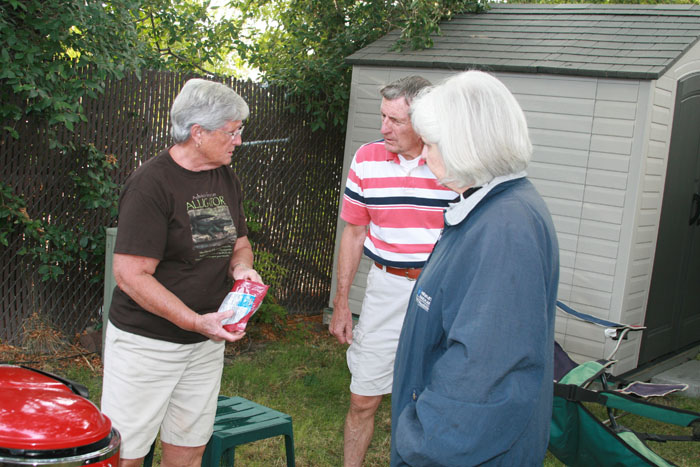 Leave it to me to be the first to reach the food table.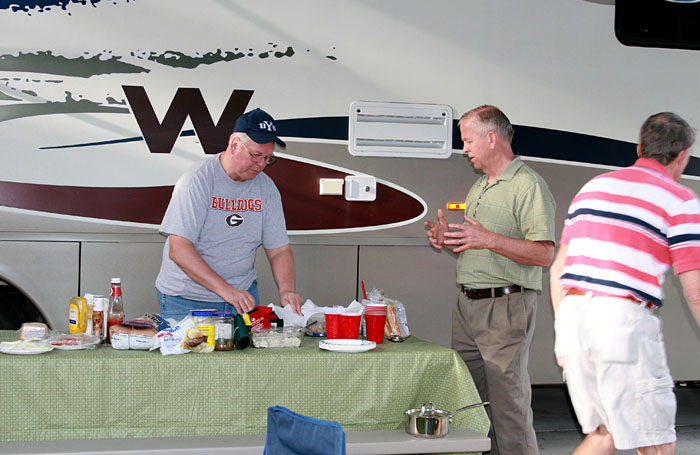 The Speidels were good cooks on their little portable grill.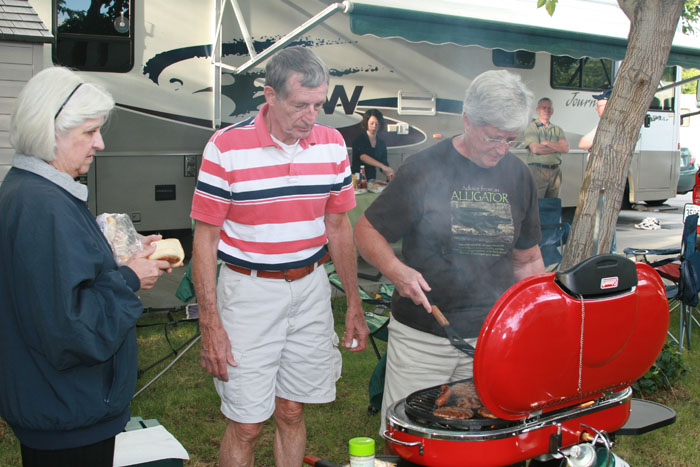 Sep. 12 - Hail and Farewell
Every other month the Salt Lake 2nd Branch (our local congregation) has a "Hail and Farewell" party for all the missionaries who go to church there every Sunday. This branch consists of 100% missionaries, so we have no youth. That's why we're a branch and not a ward. Linda and I sat at a table with some folks from Idaho. We saved two chairs for the Speidels.
In our branch, there are missionaries who come from all over the United States, Canada, and several foreign countries. Some come from Mexico, some from England, Germany, and other countries in Europe. We have a few from Japan.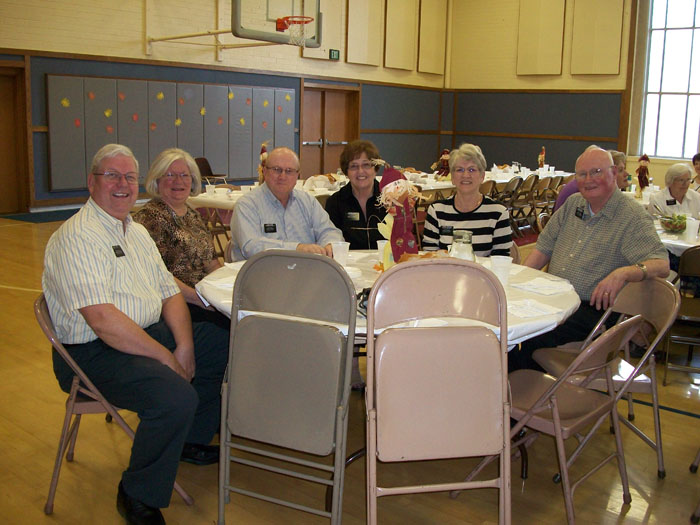 There was a chili cookoff where judges awarded prizes.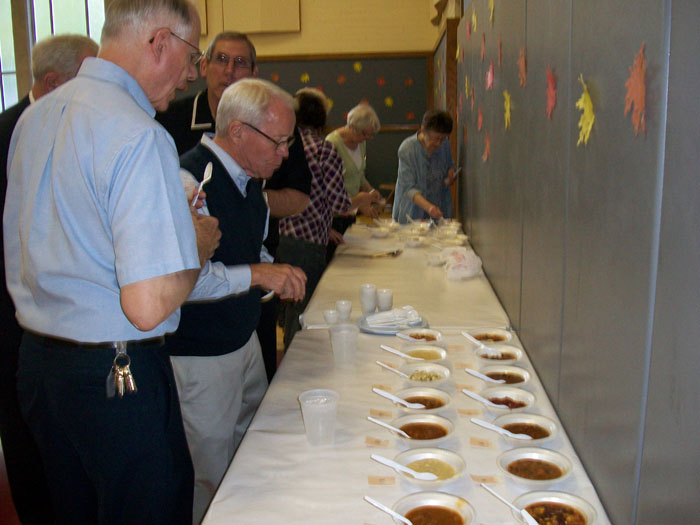 Here, one sister is receiving her award for the spiciest chili.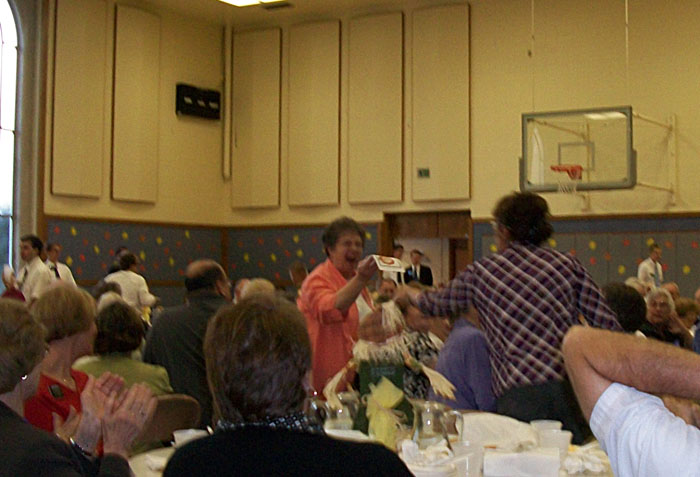 It's called a "Hail and Farewell" meeting for a reason. Here, we're saying farewell to all the departming missionaries. Once every two months, somewhere between 15 and 30 or so branch members leave to replaced by newcomers. Each of those departing is given a minute or two to speak.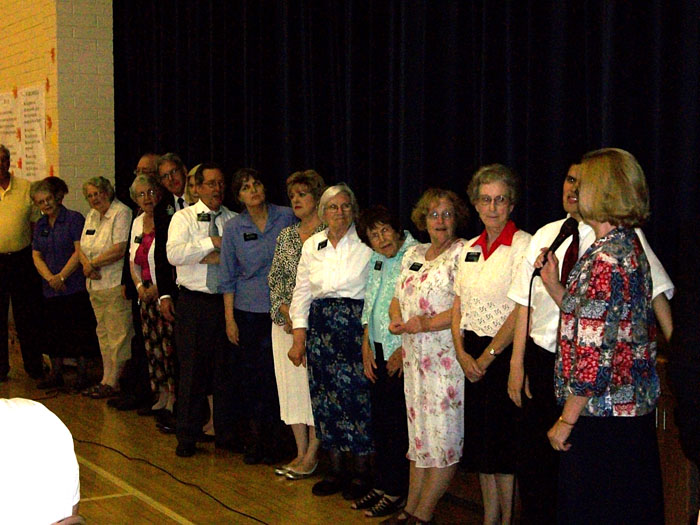 Here, those who are just coming in are being "Hailed."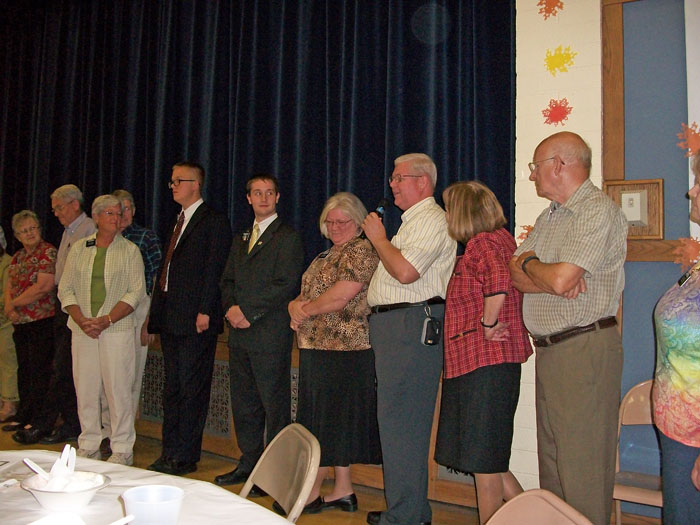 Sep. 17 - Shopping
We've had to do a lot of shopping since we arrived. We had to leave most of our belongings back in our home state so we shop to buy nearly everything. On Sep. 17th, Linda and I went to shop for scrapbooking materials so she could make a memory book for our mission photos and experiences. After shopping I turned down the opportunity to "Eat At Joes" ...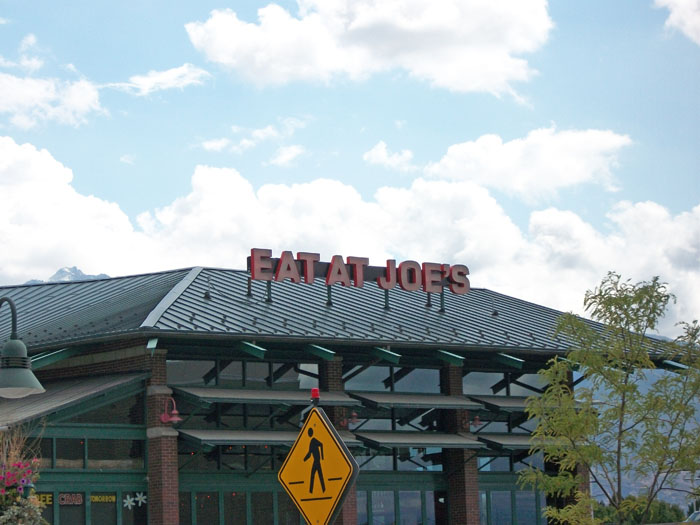 ... Instead we ate at our favorite Mexican Restaurant, "Cafe' Rio", where they serve some of the best Mexican food!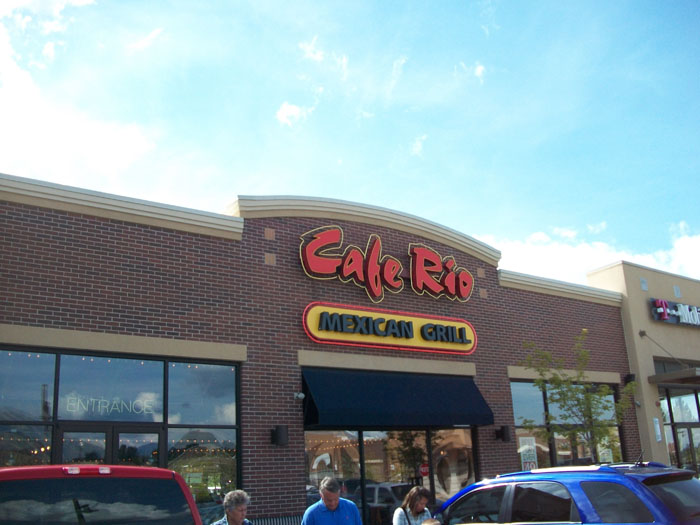 See?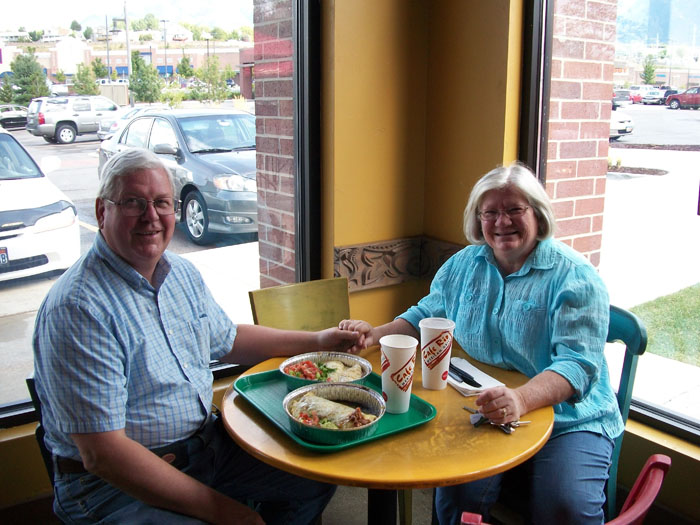 Sep. 19 - Back in the Training Zone
After the other half of our group received their two-week's training they were given their zone assignments and sent to their zones. Then it was time of our half of the September group of missionaries to receive our one-on-one training for two weeks. I'm the lucky one. They assigned me to Sister Pethel who is perhaps the best trainer they have! Linda got a great trainer too.
I spent all last week getting some of the data entered into software for a book on the Blake Family that I wrote in 1991. I completed two books back then, one on dad's family and one on mother's. But I've never taken time to enter all the names of my kindred from those books into the online database so all relatives can share my research. Finally, I'm getting to complete the task.
(I hope my cousin Eddie is reading this)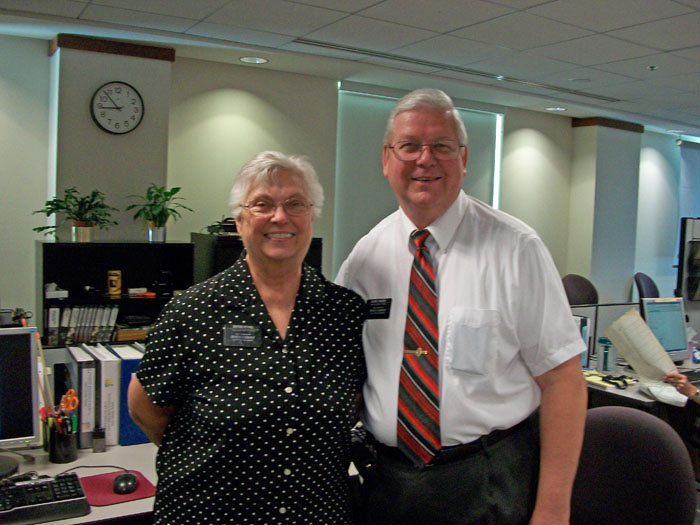 We'll be in the Training Zone another week then we'll go back to our Zone, the Data Quality Zone, where we'll spend the rest of our mission helping correct database problems so the information entered is as correct as possible.
We had the pleasure of entering this mission with an impressive group of retired people from many places and from all walks of life. Most are from the U.S. Some are from Canada. Two were born in Mexico. Among our September missionaries there are:
3 former mission presidents, numerous former bishops, branch and stake presidents, stake and ward relief society presidents.
several homemakers, 3 former school teachers, a couple of former college professors, a surgeon, a lawyer, a corporate executive, a bank vice president, a high school cafeteria manager, 2 or 3 engineers, an insurance adjuster, a librarian, and the wife of a former U.S. Congressman.
14 have bachelor's degrees, 6 have master's degrees, and 2 have doctorate degrees.
At least 2 have lost children and 6 have lost their spouse. 2 sold their homes to serve a mission.
Many have ongoing health problems such as serious hearing disabilities, trouble walking, etc. But they serve anyway.

More than half of them have served two or more missions lasting from 1 to 2 years. One has served 6 missions.

All are paying all their own expenses except for the transportation here and their return trip home when they leave.

All have a sincere testimony that what they're doing is for the Lord.

Today was Fast & Testimony Day, the one Sunday a month we fast for two meals, bring the money we save, and donate to the poor. Then, rather than the usual Sunday talks, those who wish to do so step up to the microphone to give their testimonies.
There were 18 people who bore their testimonies today in during the meeting. Some had homes nearby, others were from far away. One came here from Germany and spoke with a beautiful German accent. Some joined the church within the last 20 years, some nearly 60 years ago, and some were born into our church.
All are missionaries serving here. For many, it would be their last opportunity to give their testimony before leaving the mission for home. One summed it up by saying, "Since we've been here we've had spiritual experience after spiritual experience."
We are most honored to be serving alongside them.
~ END ~