Wednesday, Aug. 24, 2011
to
Saturday, Sep. 3, 2011
(
click HERE to jump to the Song
)
Wednesday
We've been doing a lot of shopping since we got here. Wednesday we went to the local "D.I." It's a thrift store like Goodwill Stores back home except it seems a lot cleaner and better stocked to me. D.I. stands for "Deseret Industries", (Des-er-RET) the LDS Church's arm for recylcing discards while assisting those in need of work.

When we got in our car to go, the temperature inside was 108 degrees! Fortunately it cooled off by the end of the week.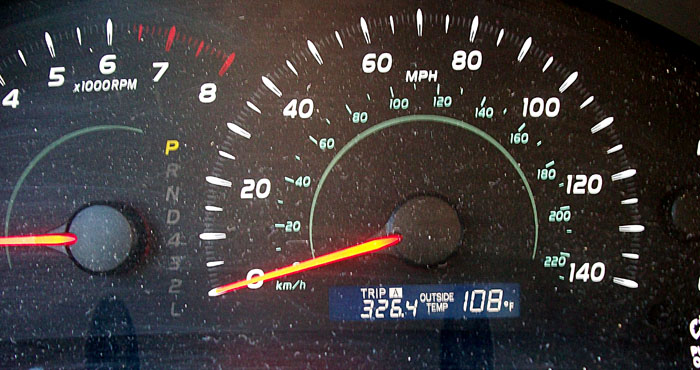 Our favorite D.I. (there are many of them) is about a mile from where we live.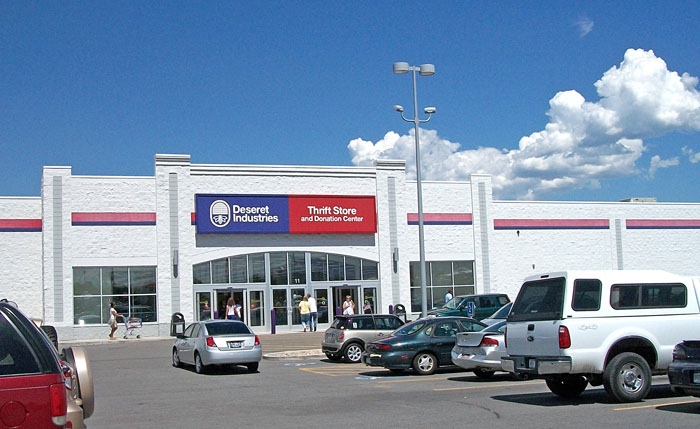 In the used book section, I bought a 1970s copy of the Book of Mormon. It brought memories of the first one I read back in 1969 when I joined the church. I love to collect old and rare scriptures. During this same shopping experience I picked up an 1897 pocket-sized New Testament printed in England. I gave it to a old friend as a gift.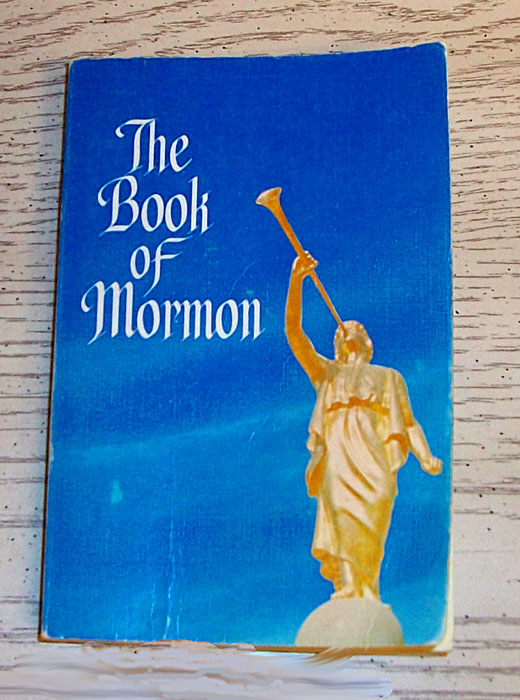 Thursday
Thursday, Aug. 29th, we visited the Joseph Smith Memorial Building. The building is celebrating it's 100th birthday this year. They had a couple old cars on display that were new when the building was first constructed as the Hotel Utah. This is a 1912 Cadillac.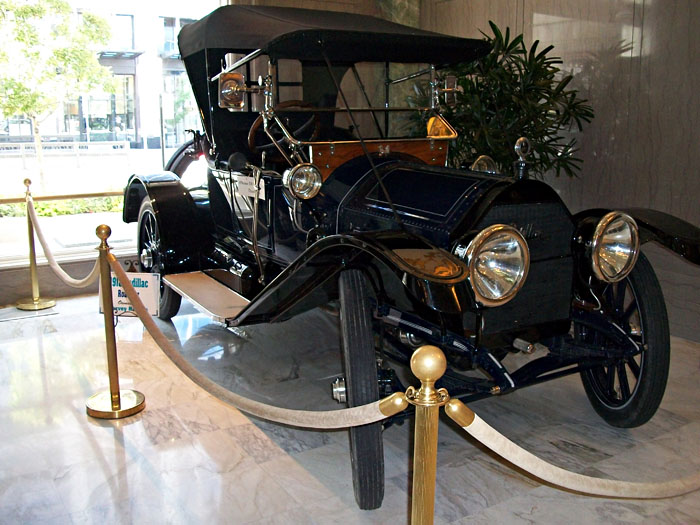 And this one is a 1911 Model T.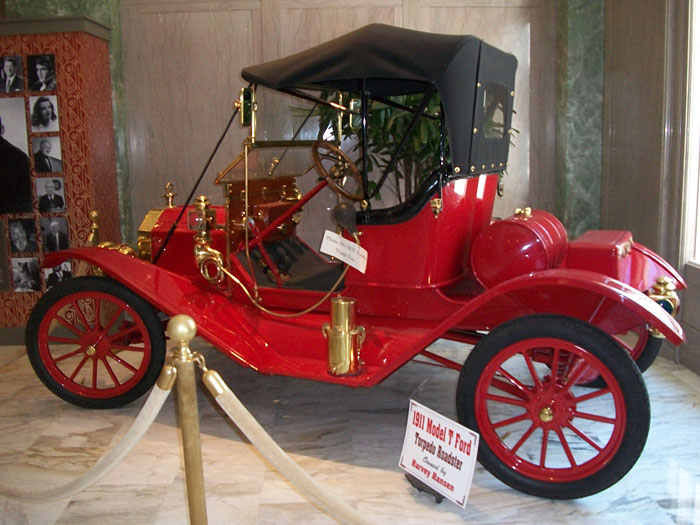 There were photos and captions about some of the famous guests who stayed there.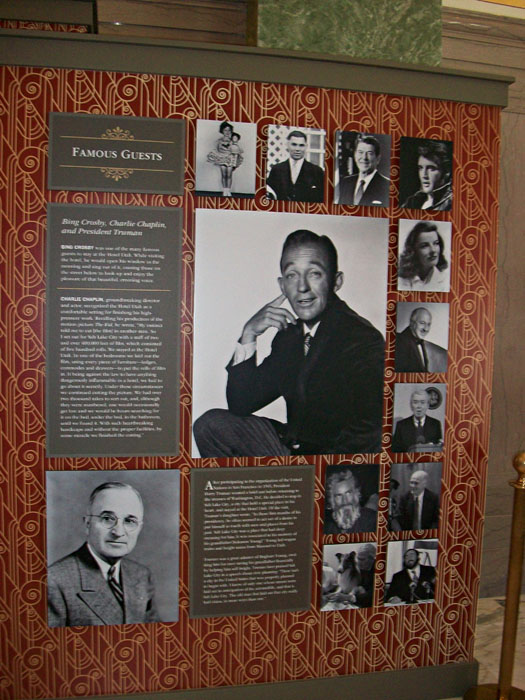 On the way out I took this photo of one of the grand ball rooms.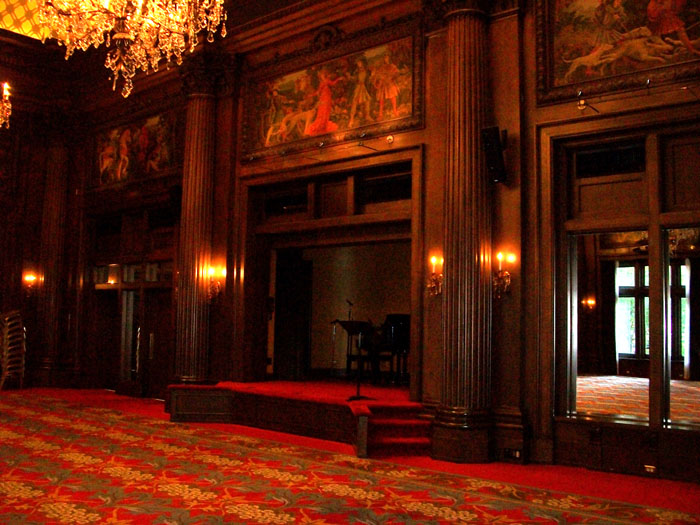 Then we exited via the patio.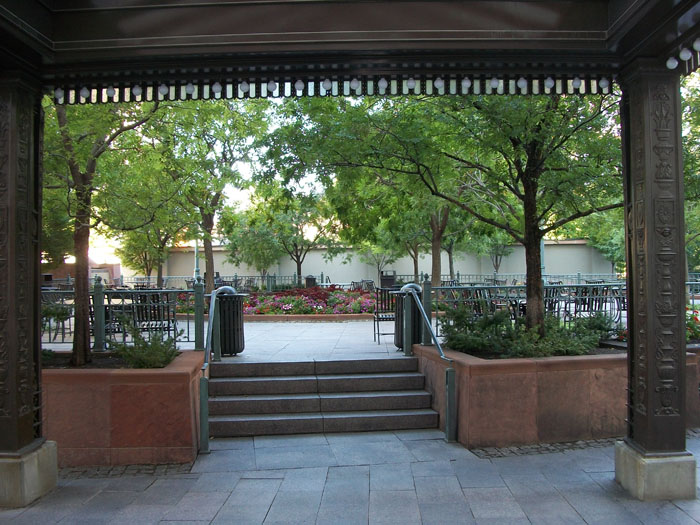 Linda went to enjoy some of the gardens on temple square...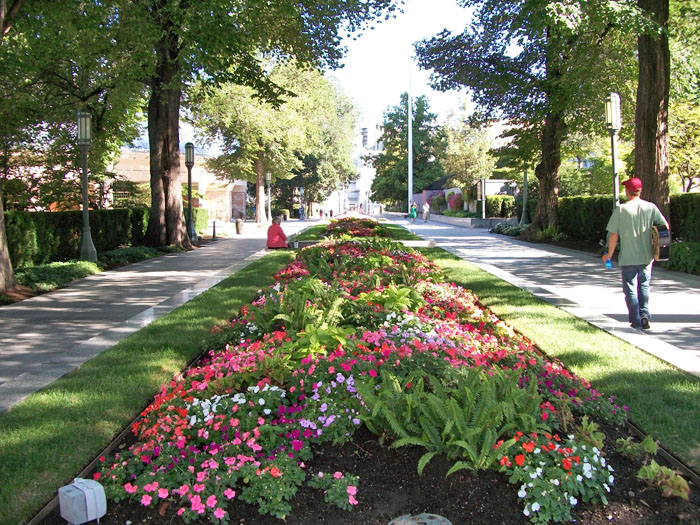 ... while I went to the South Visitor's Center briefly to take a photo of the miniature of the Salt Lake Temple.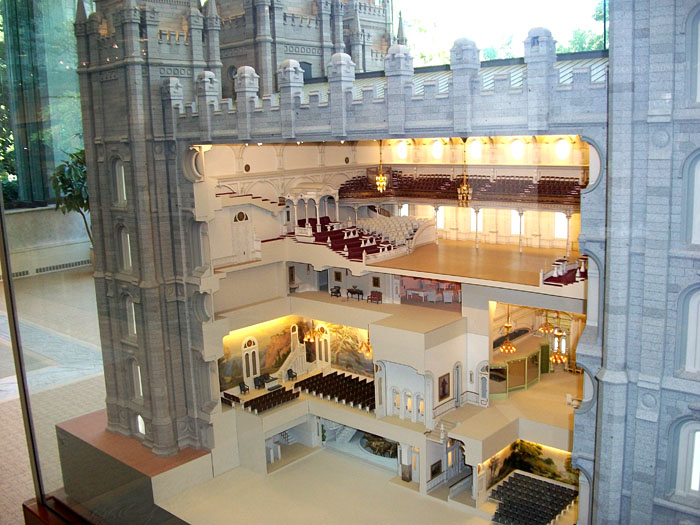 I snapped this cute photo of my wife just before we walked back to our apartment.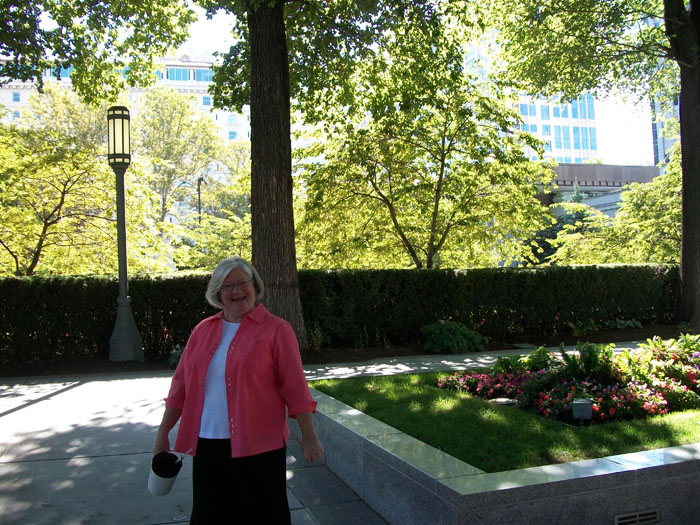 Friday
Friday was our first official day in the new mission. The mission welcomes all new missionaries the first Friday of every month by inviting them to a luncheon. On the way there, we met Sister White who has been serving on missions in Salt Lake for the past 8 years. We worked with her in 2007-2008.
We also passed what's known as the cedar of Lebonon, a tree that actually came from the middle east. They were putting up Christmas lights. They have to begin putting lights in the trees months in advance because it takes that long to get them all up.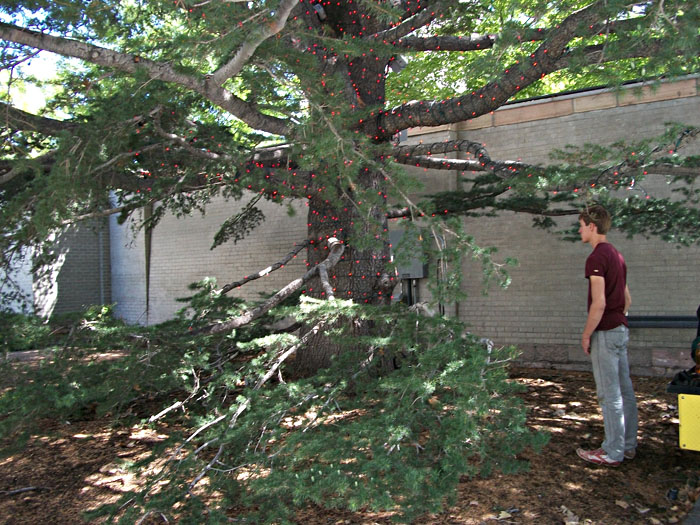 Our luncheon was held in the banquet room on the Mezzanine of the JSMB as usual.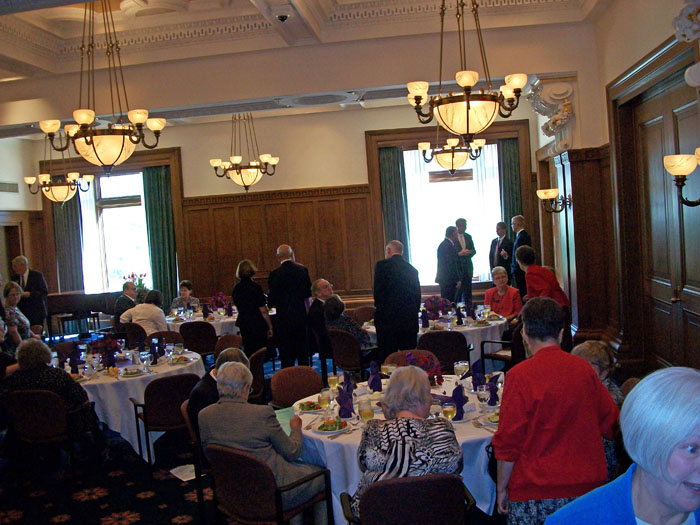 Seated at our table we got to meet two new missionaries, Sister Miller of Quincy, IL and Sister Strange of Washington D.C.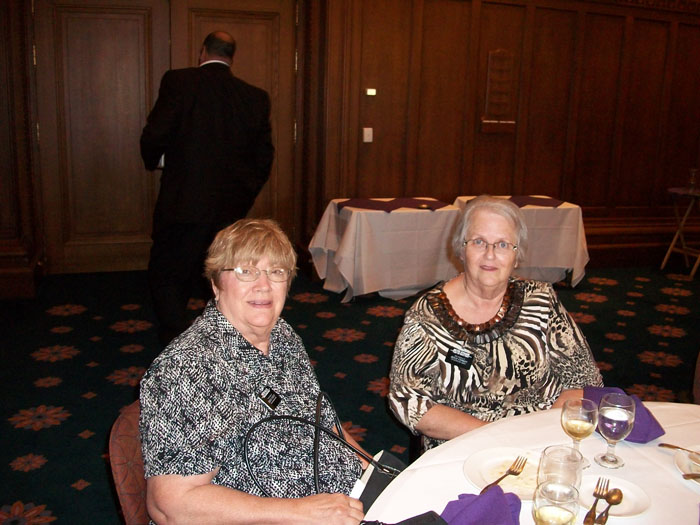 I also got to meet President Stalvey again of the mission presidency. We served with his brother Wayne in our mission of 2007-2008. It's a real joy to hear Pres. Stalvey's southern accent. He hails from Florida.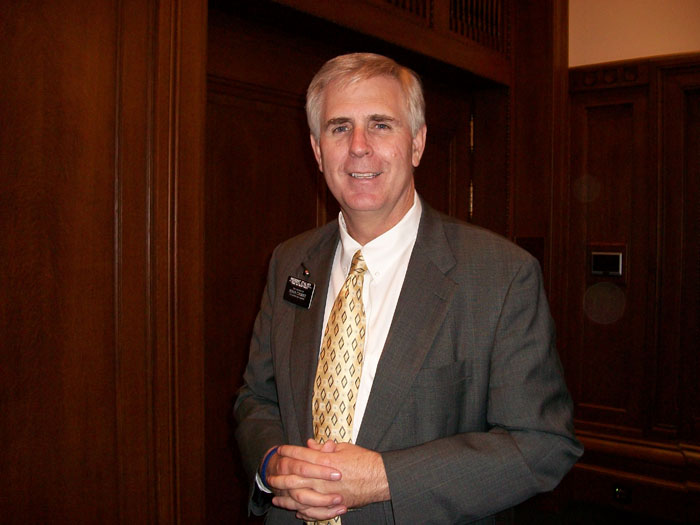 After the luncheon we were escored to the 3rd Floor East of the JSMB where we had our picture taken with the Mission President and his wife.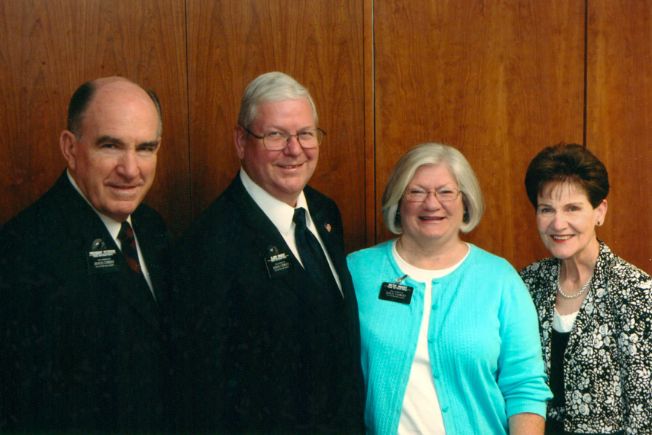 Another couple from Georgia who sat at our table were the Speidels who served a previous mission here in the Training Zone in 2005.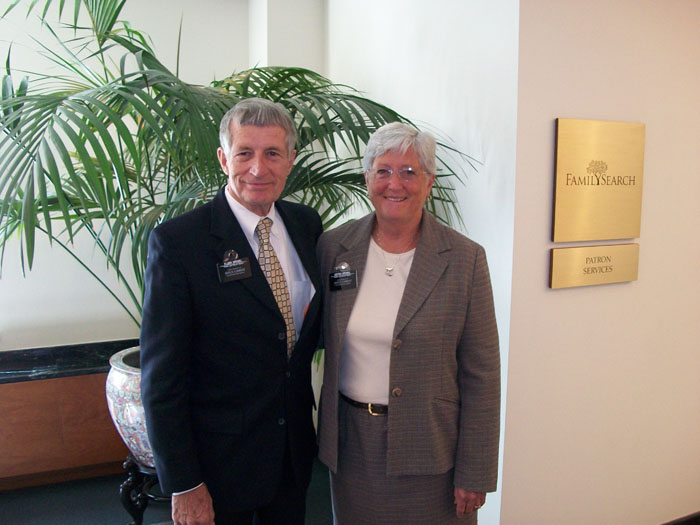 We were greeted in the Training Zone by each and every one of the trainers. We were then seated in their large training room for an overview of our calender by the zone leader, Elder Kuchar. We remembered Elder Kuchar from our previous mission. We also got to greet a couple other dear friends from our previous mission who are still in the Training Zone.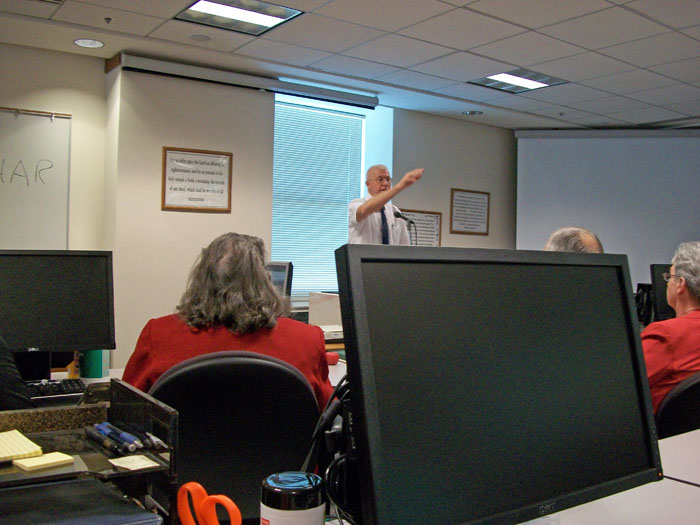 Our last venture for the day before being dismissed was to be led downstairs to the stairwell of the Family Search Center where our group photo was taken. There I met young Elder Morse, a new missionary who is related to Samuel Morse, inventor of the Morse Code.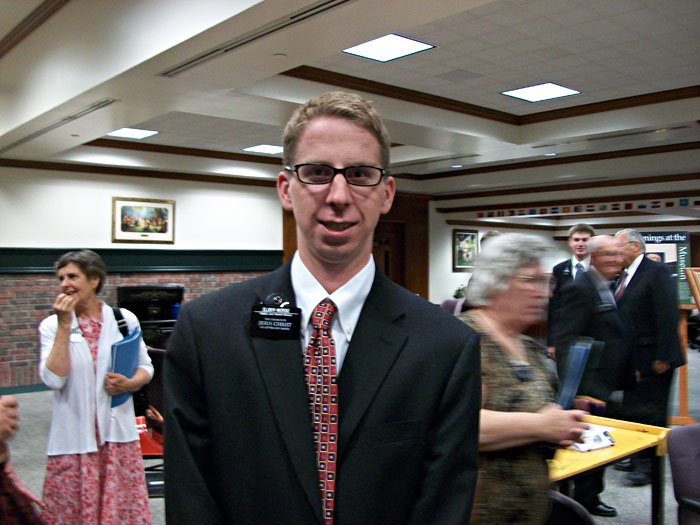 As we left the Joseph Smith Memorial Building (JSMB) I turned back to take this photo of the building's dome gleaming bright white against a pale-blue sky. We went to the South Visitor's Center.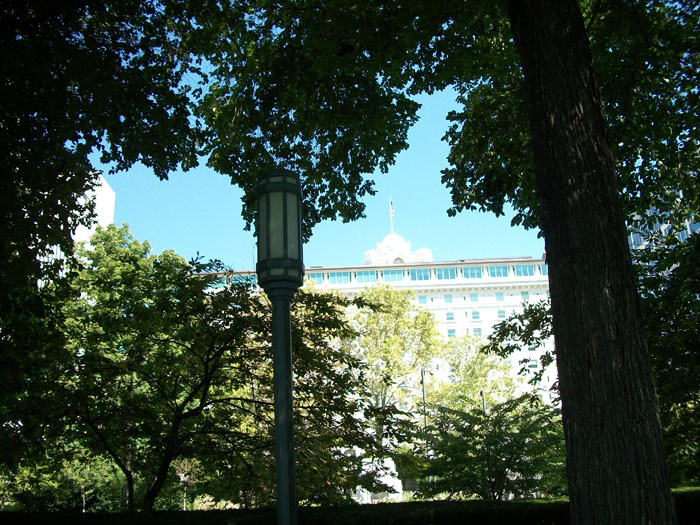 There we met my daughters Karen and Jo Anna who were visiting Salt Lake.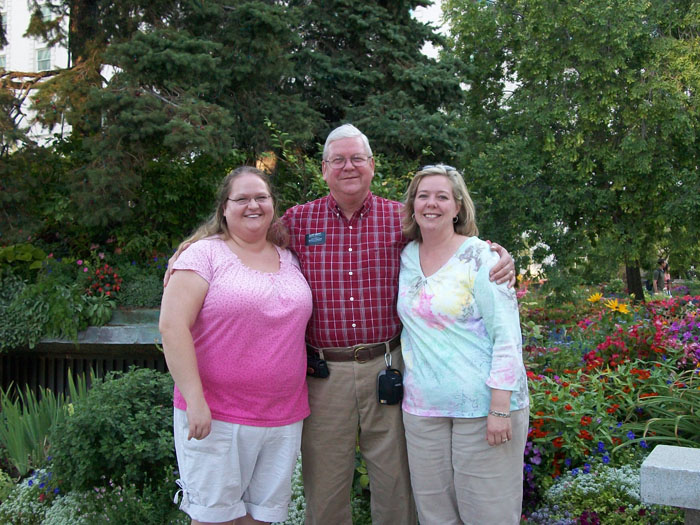 Isn't family the "bestest" thing!
Karen treated us all to dinner at the Lion House.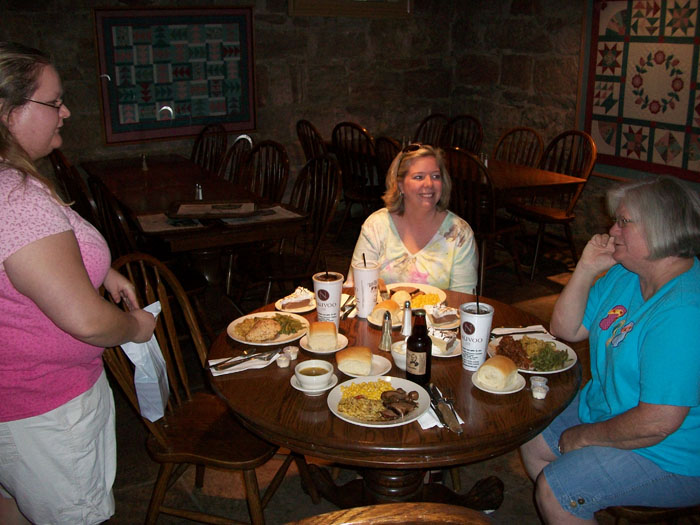 Before they left, we got this night photo at the East door of the Salt Lake Temple.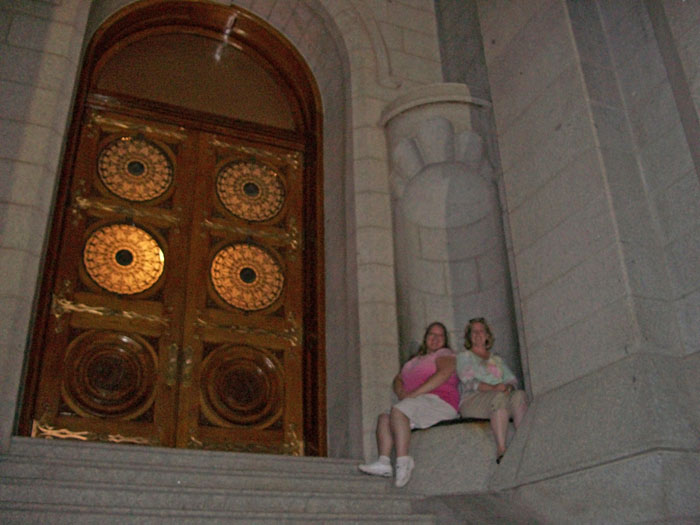 Saturday
This week would not be complete without mention of a tradition that always follows the first Friday. On the first Saturday following the first Friday, all the new missionaries entering their new apartments are invited to the "Swap Meet." It's where they get to shop a sort of Yard Sale for free. All departing missionaries have good things they have no room for in the vehicles. They must leave things like ironing boards, microwave ovens, kitchen utensils, even TV sets. All these things are needed by the new missionaries just entering the mission. So they can pick up many of them at the Swap Meet.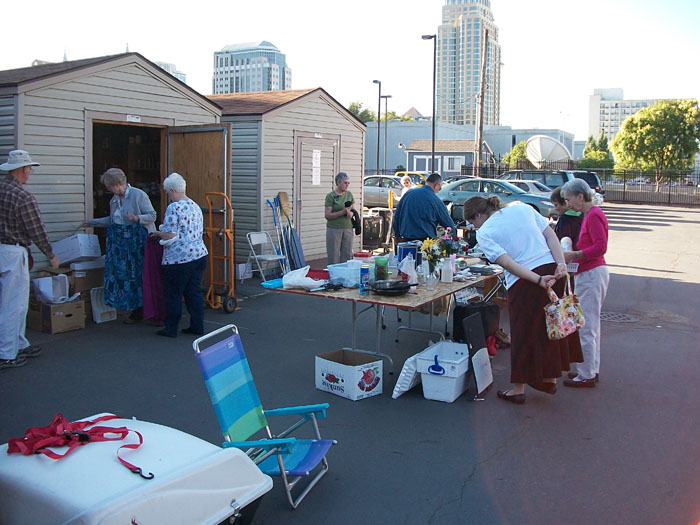 The rest of the month, usable goods are kept in these storage buildings to be brought out the following month. New missionaries are given permission to attend the Swap Meet from 8:00 to 9:00 at which time the Swap Meet is opened to all other missionaries. They're allowed to take whatever is available. Often departing missionaries bring things to the Swap Meet the day of the meet.
We were there for about an hour and picked up a quilt, a chanille bed spread, kitchen storage containers, utensils, and a mixing bowl.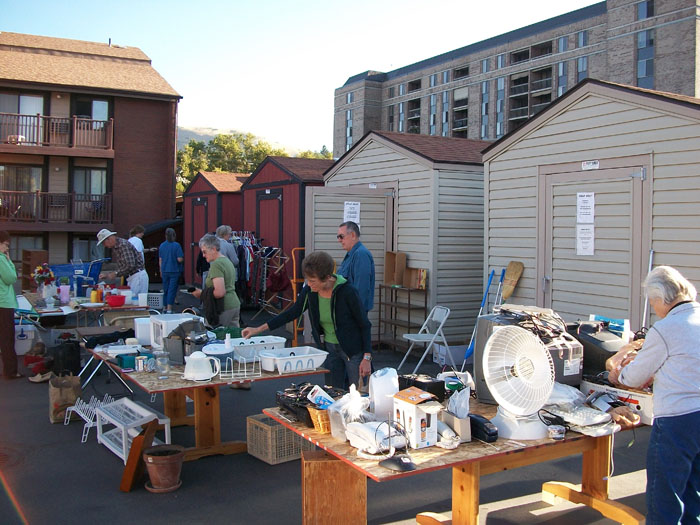 I attended a 4:00 PM temple session with my daughters afterwhich I invited them back to our apartment to practice a song I wrote as a gift to a friend of ours. We sang the song to our friend Labor Day.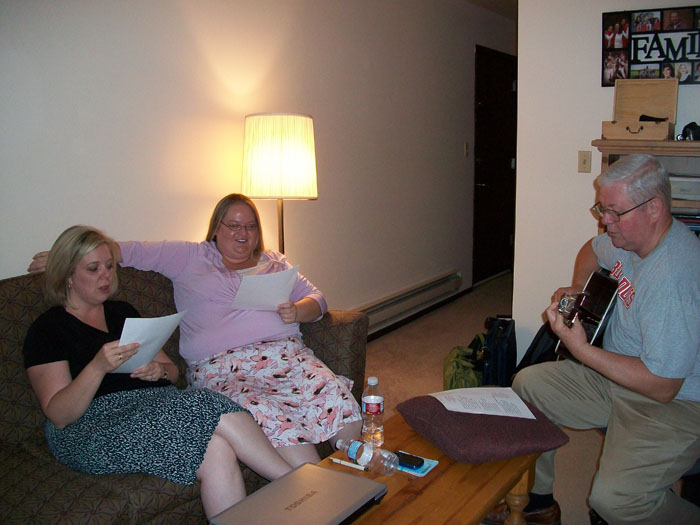 (click below to hear the song)
After my daughters left, Linda and I attended the 80th birthday party of a friend, Elder Matheney. He's the one I gave the old New Testament to that I mentioned at the beginning of this web page. We served with Elder Matheney during our previous mission here in 2007-2008.
This was a full and rewarding day and week. Next week begins with a holiday so we are excused from beginning our training until Tuesday. But we have a busy week planned for us by our mission leaders. Our mission president on our previous mission was Elder Ronald Halverson formerly of the 2nd Quorum of Seventy.
Our current mission president is Elder Wayne S. Peterson also a former member of the 2nd Quorum of the Seventy in our church leadership. So we've been blessed twice to have general authrorities as our mission president. Pres. Peterson has served previously as President of the Oakland, California Mission, as Area Authority Seventy of the Utah North Area, and as president of the Nauvoo, Illinois Temple before being called as president of the Family and Church History Mission.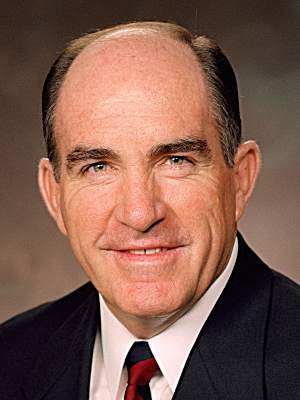 ~ END ~