May 7, 2011
Helping Alabama Tornado Victims
Saturday morning as our LDS crew began to arrive from middle Georgia, we were asked to sign in.
Steven Smith, Anniston Alabama Ward Elders Quorum President was our guide for the day.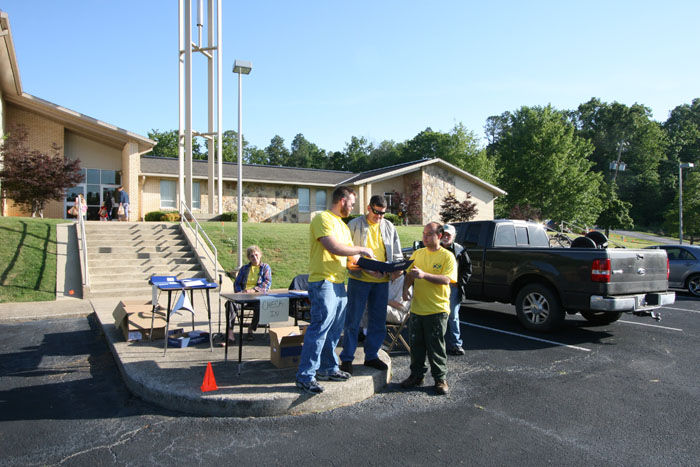 After we signed in we issued our "Mormon Helping Hands" t-shirts. 1,850 members of our
church from stakes all over the southeast went to Alabama this weekend (5/7/2011) to provide
relief to victims of tornadoes. Three of these stakes were from Georgia. Many volunteers went
to Tuscaloosa. Our stake (Macon) sent more than 150 volunteers to the Anniston, Alabama
area where the rural areas of Jacksonville, Ohatchee, and Wellington were hardest hit.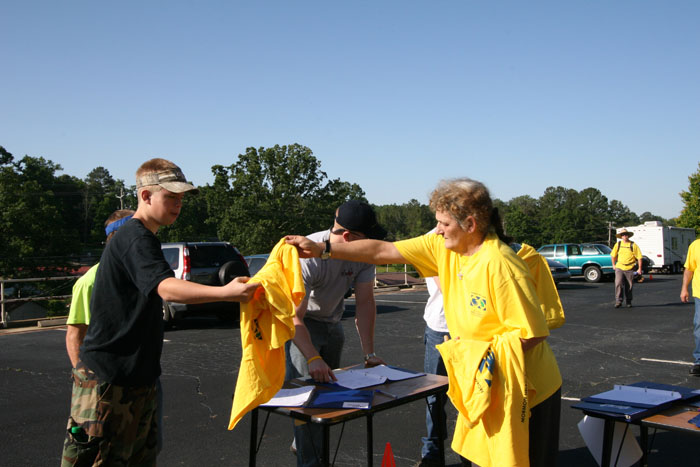 Bishop Thompson's crew posed for a photo in front of the Anniston Ward building.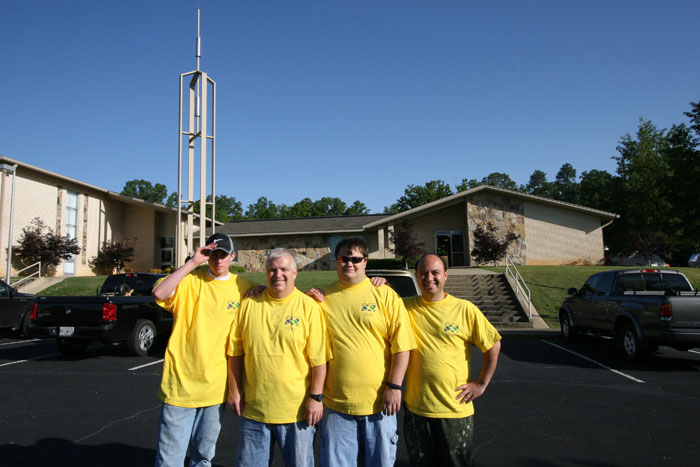 Shirley Maddox and her crew arrived.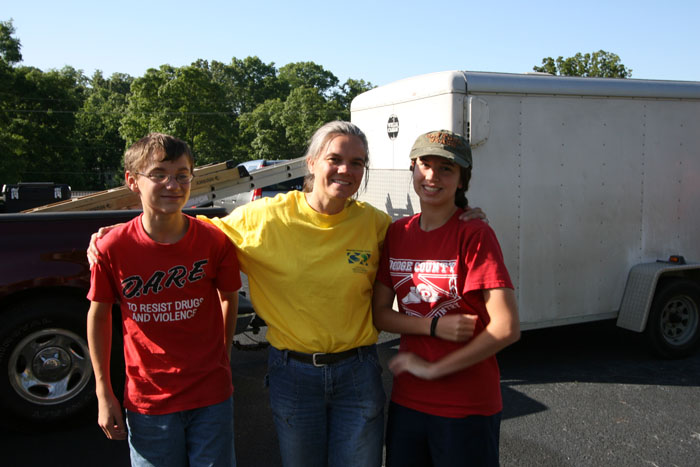 Macon Stake President Warnock and the team that was with him signed in.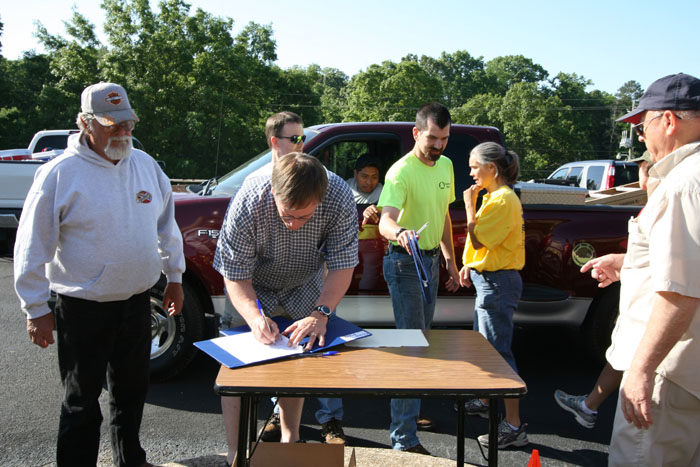 We all attended our safety and work instructions briefing.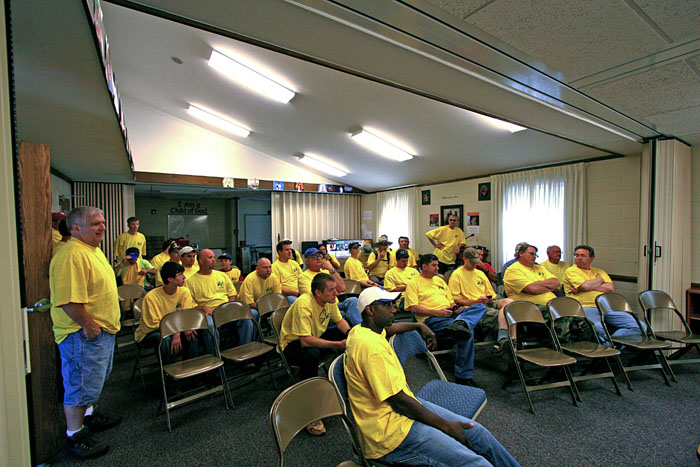 From there, we were led "to the sticks" as Anniston Ward leaders put it. We were asked by
the minister of the First Baptist Church of William (near Ohatchee) to assist his
parishioners
near his church. Many of them had severe or total damage to their homes and property.
Some lost their lives. These good people were very generous. Some of our team accepted
their offer of meals and a shower at the end of a hard day's work.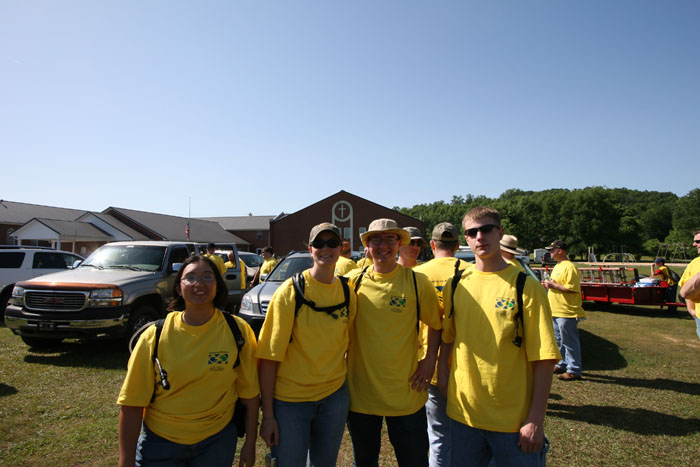 About 10 cars took a wrong turn getting to the Baptist Church. Bishop Thompson led us
back on the correct path using his GPS. Somehow we arrived before our guide got there.
The bishop joked as he quoted scripture, "The first shall be last and the last shall be first."
There were many large trees down at every assignment.
Our brave men quickly tackled the problem.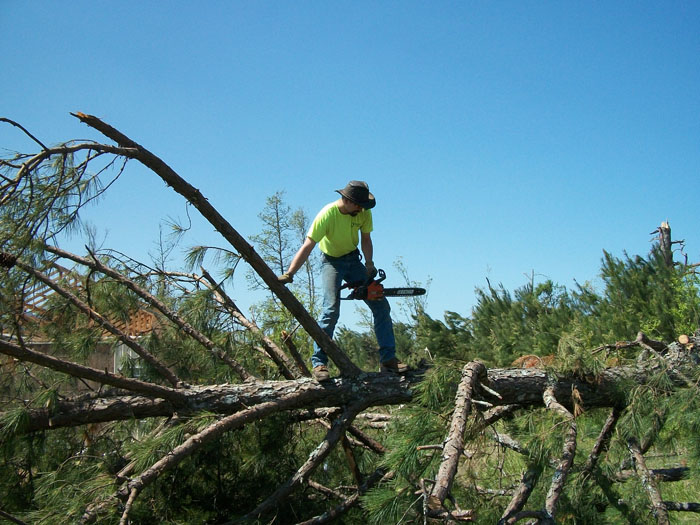 As some operated chain saws, many more were quick to haul away the large limbs.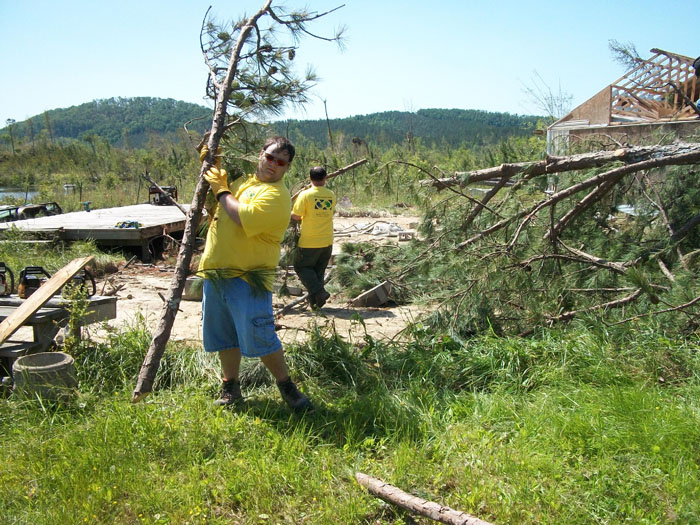 We continued to move trees and attempt to restore the property as much as possible to
where the owner could rebuild. They told us they were more fortunate than neighbors.
They had another place to stay. Some lost everything they had.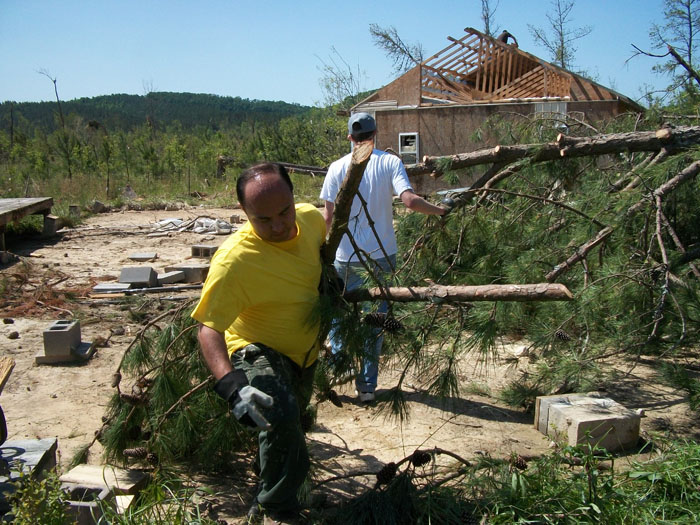 After we cleared the trees from the property you can see where the tornado picked up his home
off the foundation, scattered teh foundation blocks, and sat the house down in the pasture without
even breaking some of the windows.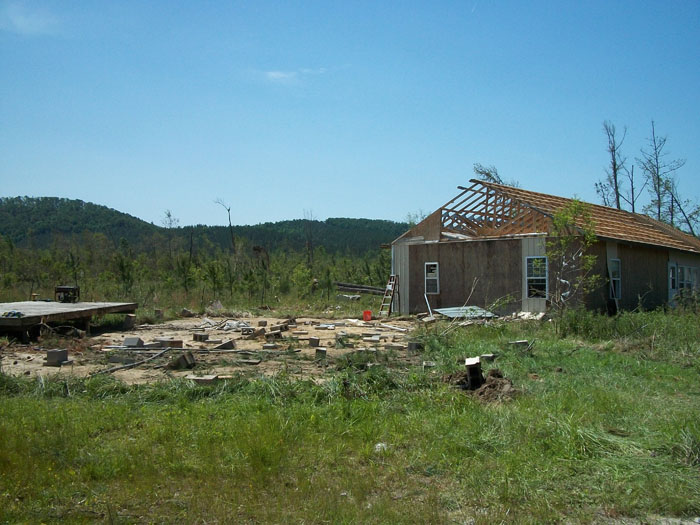 After the limbs were removed and the trunk cut into sections, a loader provided by Bro.
Peacock of Macon Ward, moved the heavy truck to the scrap pile.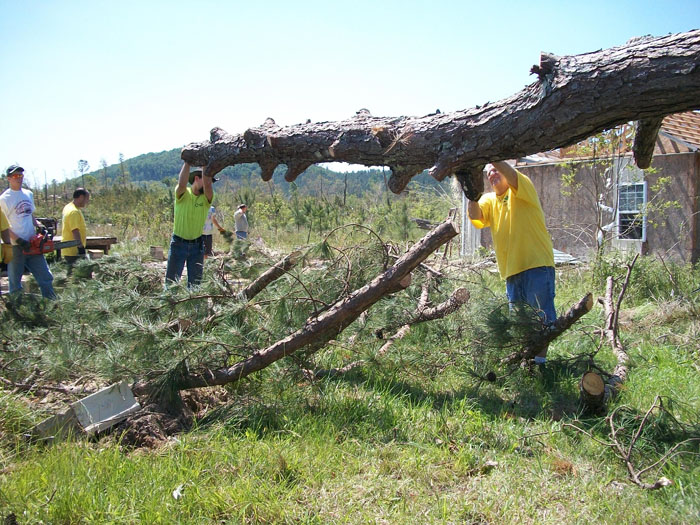 Bishop Gonzales of Warner Robins led a team in temporarily roofing the home of the next
place we visited. Our church provided the tarps and furring strips.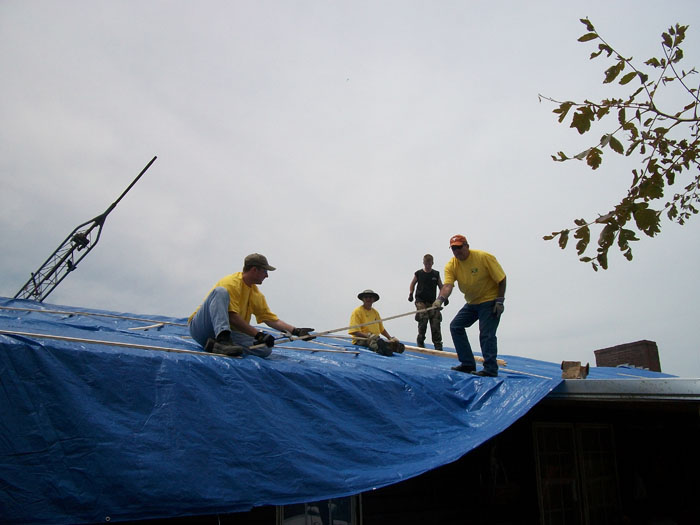 Members of Trinity, another local church, helped the family rebuild and provided meals.
Elder Gidden's, our area seventy, has called this "the gospel in action." It was such a joy
to our hearts to work shoulder-to-shoulder with other Christians in helping their neighbors.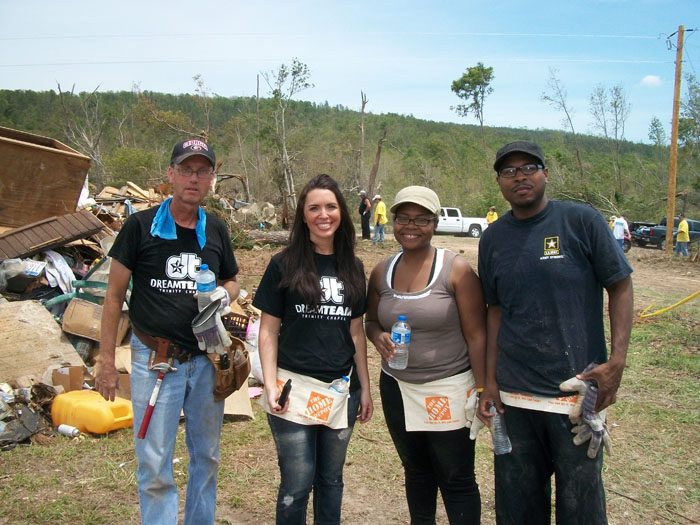 After finishing his work at the other site, President Warnock joined us.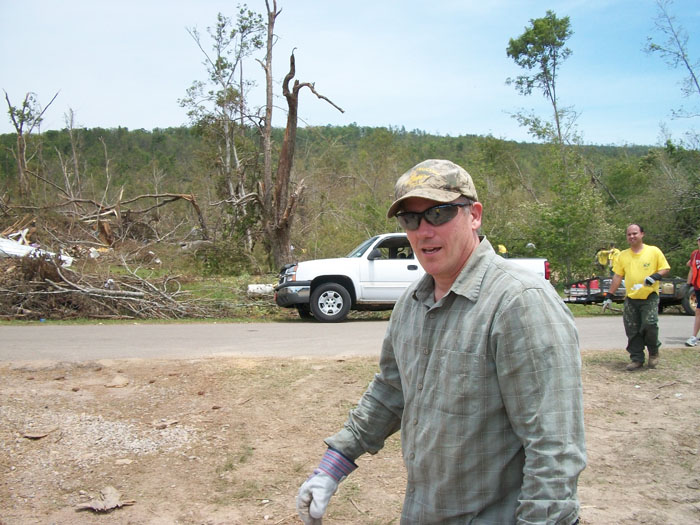 He was followed by others who worked tirelessly to clear debris and restore the owners property.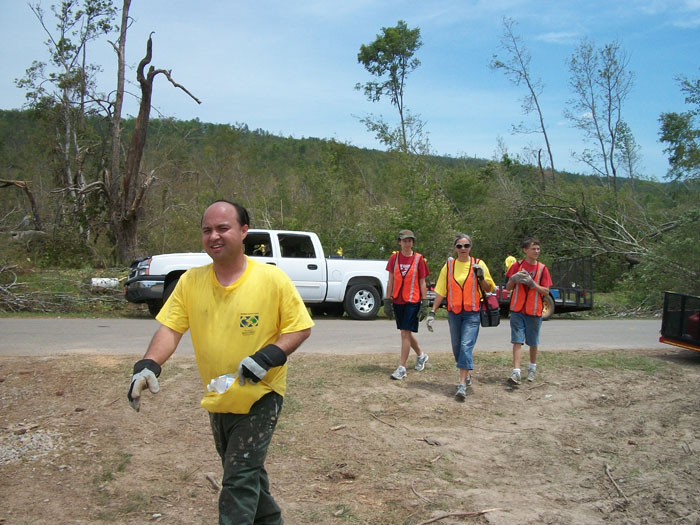 Debris was sorted with one pile for trees, another for metal and wood from homes.
Our people continued helping from house to house as we had work orders to do so.
At the end of the day, some 50 or so homes, 2 churches, and a cemetery were cleared
by members of the stakes from Georgia. Our people were sunburned, dirty, and exhausted.
But their hearts were full from the reward that can be had only in the service of others.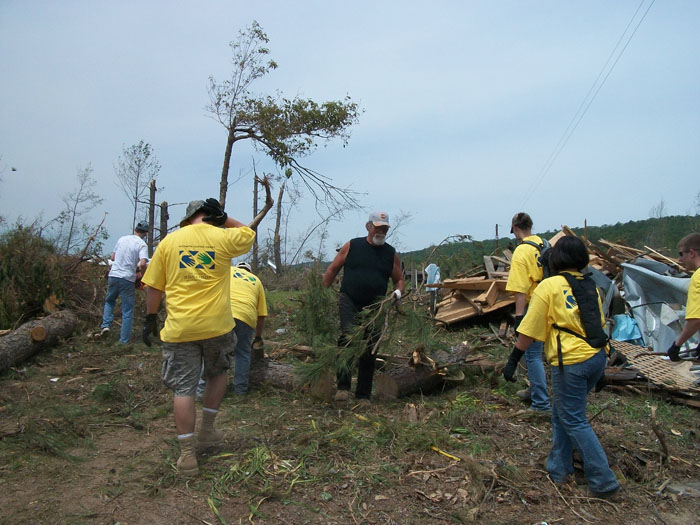 ~ END ~