Gulf Shores Oil Spill - June 2010

Last March I sent a photo essay of our trip to Gulf Shores. Looks like we got down there, as a friend says, "Just in the Nicholas of time."
I just received an email from my brother about the effects of the oil spill. Attached to his email were some photos. Here's the email:
Subject: Fw: Oil in front of "Pink Pony" in Gulf Shores
Date: Saturday, June 19, 2010 9:30 PM
It finally arrived in large amounts on Friday night. It was worse after Saturday nights high tide came in. These pictures were from Saturday afternoon down at Gulf Shores right in front of the Pink Pony Pub next to the public beach pavilion. The air smelled like strong kerosene. It was sad.
For those who aren't familiar with the Alabama Gulf Coast, let me show you where this is. The main road going into Gulf Shores dead ends into the beach road. In this photo we took, the Public Beach is seen just across the beach road from the intersection.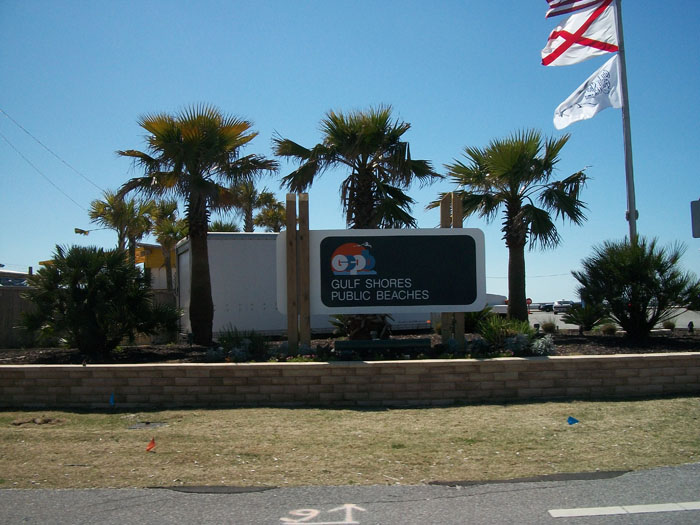 The Pink Pony Pub is on private property adjacent to the public beach. See it here next to the public beach parking lot. On the right in this photo is a public pavillion.
When we were down there just 3 months ago the beach was beautiful as usual. We took this photo of some people walking on the beach in March.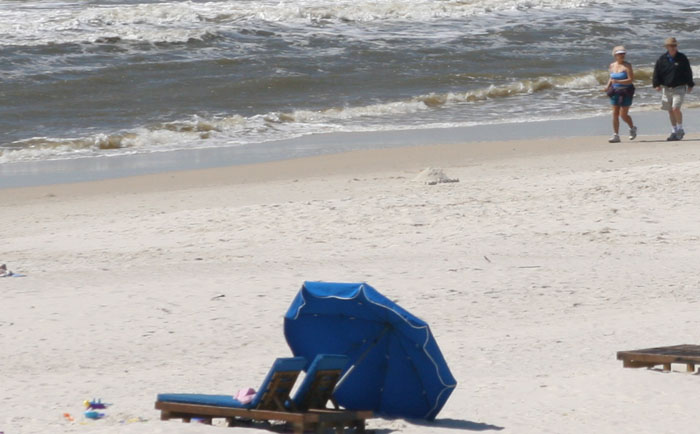 In this email my brother sent, this photo shows a newscaster broadcasting from the same beach.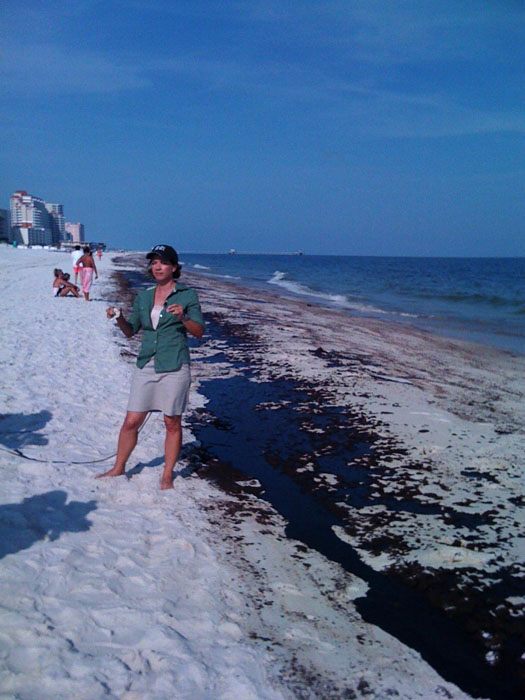 Here are a 3 more photos he sent from the same beach:
Photo #1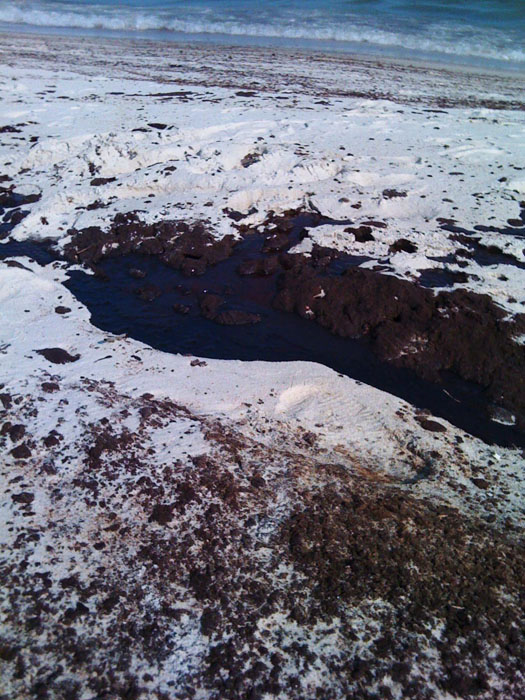 Photo #2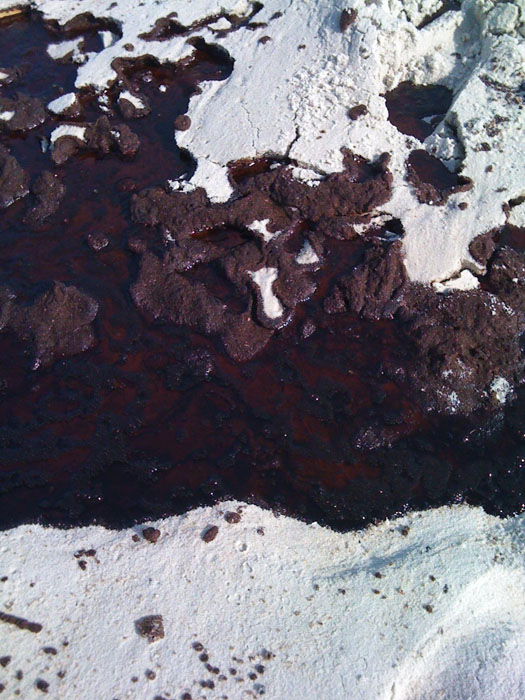 Photo #3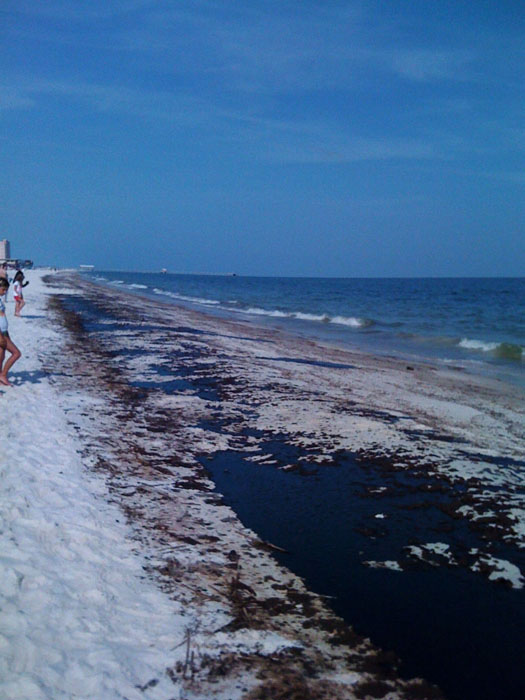 I'm sure most of us would prefer not to see this near the surf: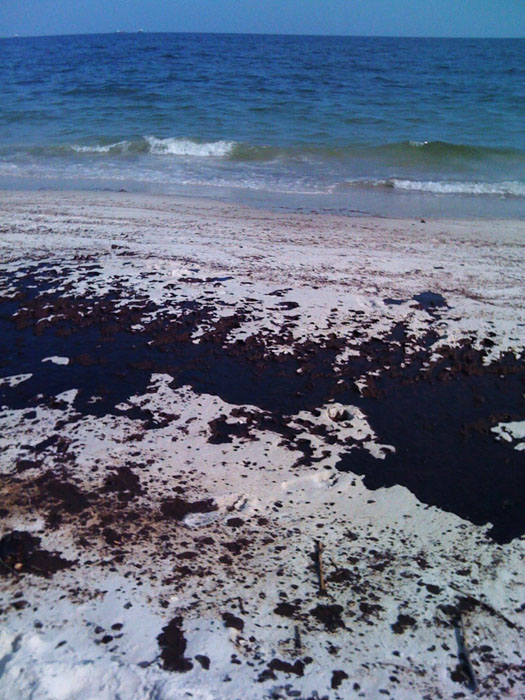 But I have to make an editorial comment here. This is NOT the first time we've had a coastal oil spill. It's happened several times in the past according to a friend in Florida. He mentioned the spill to an old timer there who told him of the others so my friend looked some of them up:
1970 May 6, 1970 - WASHINGTON, May 5 The Chevron Oil Company was indicted today by a Federal grand jury on charges of "knowingly and willfully" failing to install safety devices that, according to some Federal experts, could have prevented the fire and subsequent oil spill last winter at several of the ...
From CHEVRON INDICTED IN GULF OIL SPILL; US Jury Alleges Failure to … -
select.nytimes.com/gst/abstract.html?res ...
1979 Aug 14, 1979 - ...history s biggest oil spill. The gooey oil Is snaking into US waters toward Laguna Madre, a series of bays on the Texas shores of the Gulf of Mexico. They are regarded as the cradle of the Texas fish and shrimp industry, worth millions commercially. ...
From Gulf oil spill makes others look small -
pqasb.pqarchiver.com/chicagotribune/access ...
1990 Jun 16, 1990 - African crude evaporated or burned, and lesk than 14000 gallons remained in the water The Coast Guard would not elaborate on how it reached the million gallon estimate for the spill. The spill had been estimated at 3 million gallons . The worst oil spill in history was last year when ...
From Bacteria put to work on Gulf oil spill . -
news.google.com/newspapers?id=pIMNAAAAIBAJ ...

His point (and mine) is that it's happened before and we survived it. Yes it is a mess. Liberals will whine about it for years to come. They would have everyone avoid the place and spend our tax dollars to clean the mess up. Then they would have the oil companies go bankrupt obeying impossible environmental policies. Of course all this bad press would kill the tourist trade.

But most Alabama rednecks aren't liberal. They're conservative. Instead, they'll probably head down to the coast in droves to see what the heck is going on. And the folks that live down there? Many of them are what we call snow birds -- wonderful neighbors from Michigan who can't stay away from the Alabama coast. They love it down there. And they're some of the friendliest people on earth.

I doubt they'll leave either. They'll stick around and enjoy the sunshine. Sooner or later the oil spill will be mostly cleaned up and things will be back to normal. God bless the good south Alabama natives and northern seasonal tourists who live there. They're a resilient lot who've weathered a lot worse than this.

~ END ~