This small table, painted flat black to prevent reflections, is where the documents are laid.
The camera is connected to a computer where software assists the missionary to take a high-quality digital photographic image of the document. As the document is photographed, it is also catalogued to assist in later indexing operations.

The dark paper (cardboard) covers taped and stapled at the top of this picture are to keep the table's bright lights from blinding the operator.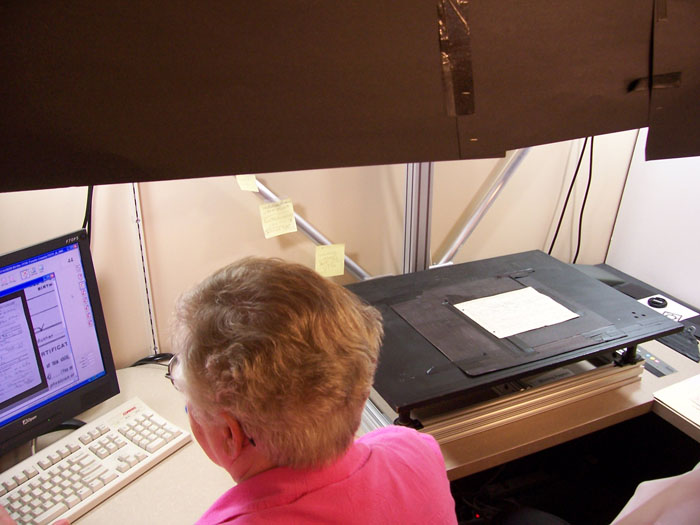 Here's a look inside the light shield at the camera itself.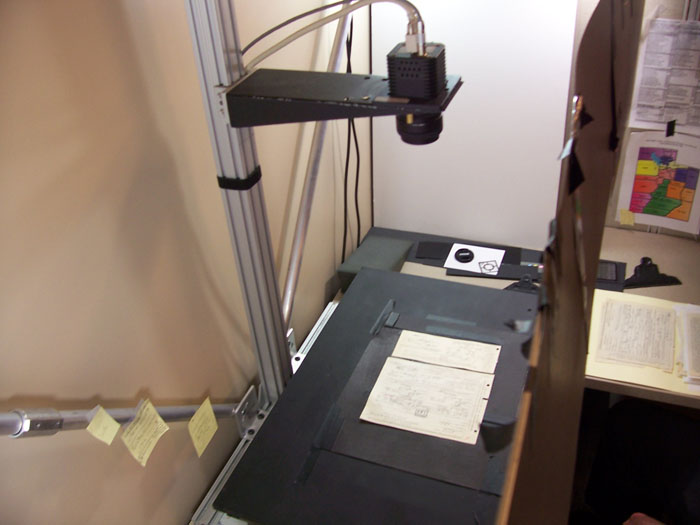 And here's a closeup of the camera. Camera stats are included at the end of this web page for those who like tech talk.
Here's the customized computer used to do the imaging.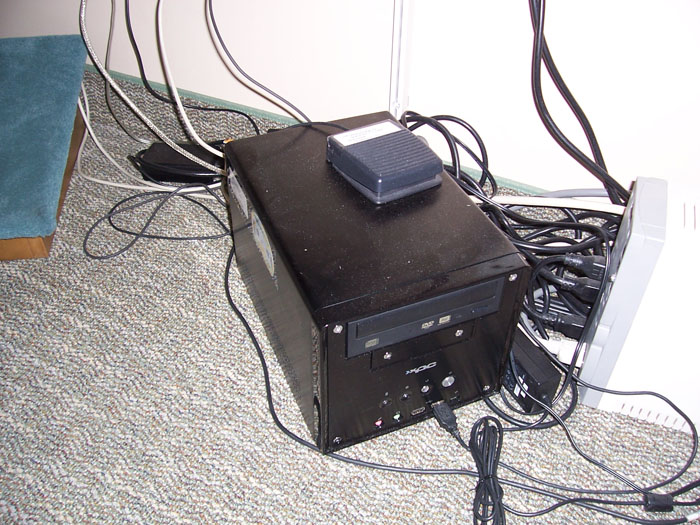 This is a portable hard drive used to store the images. When complete, the drives are packed in these protective cases and shipped to the Church Office Building. The destination
in the 26 floor Church Office Building near temple square in downtown Salt Lake City
is an air conditioned room young missionary volunteers mount the USB hard drives in racks. From there, data is transferred to a local server from which missionaries create 2 DVDs, one for return to the government agency from which the image was photographed and the other to be archived.


After images are archived and stored they are uploaded to storage in a leased data center and made available to thousands of volunteer indexers. Raw images can't be searched by computer. A human indexer looks at the image, reads what is there, and types the text that is read into a computer file to be matched with original image. This makes the information searchable.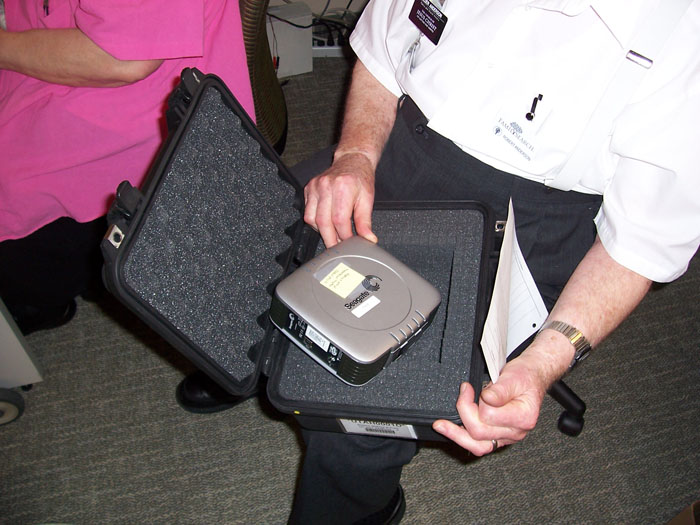 For those not interested is technical specifications, this is the end. For those of you out there who are nerds like me, scroll down for the specs.




Disks are Seagate ST300003U2 250GB shock resistant hard drives
stored in foam-padded plastic cases
Software: dCam-II v1.9.3.3
Camera 16MP Illunis XMV-16M (SiSo me4 driver)
with a Nikon 50mm 1:1.4 D standard lens.
It makes 4872 x 3248 .TIF images at up to 3 FPS
(see http://www.illunis.com/products/xmv16000/xmv16000.html for a datasheet)
4 bright flood lamps (2 on each end) illuminate the
flat black coated adjustable aluminum document table
on which records are laid.

Images are saved in lossless JPEG (80% or better) format once they reach their destination which I don't have photos of, unfortunately.

To volunteer to do indexing, go to this link:
http://www.familysearch.org/eng/indexing/frameset_indexing.asp

For the world's largest genealogy database and to begin family research, click on this link:
http://www.familysearch.org/eng/default.asp